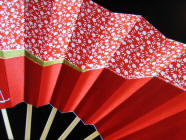 Planning ahead has not always been my way, I sort of like the adventure of not knowing, but Steve is a bit different. Where I had thought a good way to get rid of much of our STUFF off s/v Ariel, like bicycles, tent, sleeping bags.......you know, one last fling before sending it all overboard.....thus the plan to cycle Japan. That is how we ended up with BIKE FRIDAY'S.
We had a post card made up for those who are kind or curious. It has our photo on the front with Japanese writing below thanking them for allowing us to bike Japan and enjoy their country. A little explanation about us taking a few months off from sailing on a world circumnavigation and a photo of s/v Ariel is on the back. I guess they like to know what kind of people are into such self sacrificing behavior. The card was our key to opening doors in Japan! Steve did not trust any of my equipment including my old standard touring bike that has gotten me over 50,000km in the past. That is also why we ended up with a new MSR lightweight tent with 2 doors (we hear there are bears in Hokkaido) two new sleeping bags, a Jet Boil (latest technology in camp stoves) new helmets, three sets of bike clothes, new odometers, high powered LED head lamps and amazing new LED tail lights with 14 settings that flash like a police car.

Now if that is not enough we took along a computer to be packed in the little Samsonite luggage case, the WIFI to connect and a WIFI detector to find the 'hot spot' and a headset to connect on SKYPE.
Steve ordered 10 pounds of books called Mapple's (all in Japanese) for motorcycle touring. The Mapple's show all the camp sites, gas stations, food shops and include latitude and longitude.

And OH YES, can't forget the GPS!!!!

The Japan Cycling Navigator (www.japancycling.org/v2/) were extremely helpful in all aspects of information including helping find a home stay for our first night in Sapporo, the capitol of the northern most island Hokkaido, where we would begin our tour. Konichi and his wife Shadow crammed us into their very Japanese size apartment along with all four of their own bikes and little room for anything else. But it was a perfect situation for meeting the locals and getting set up for our tour. They even picked us up at the airport where we chose to fly directly from Tokyo.

Konichi had bicycled over 36,000 miles AROUND THE WORLD and met Shadow along the way. They are presently on hold from bicycle touring as Shadow is pregnant!!! There is a great article about them in Adventure Cycling Magazine March 2006 issue. (www.adventurecycling.com)
Well fed, routes considered, Bike Friday's assembled, suitcases each jammed with about 50 pounds of STUFF, a test run and.................
WE'RE OFF!!
CLICK ON PHOTO

Day 1 We did 56 km. up into the hills pulling our loaded trailers. Steve chose the route as he likes the mountains but before the day was out he was considering sending some of his load on to Australia and we had a discussion to head for the coast the next day where it is flat.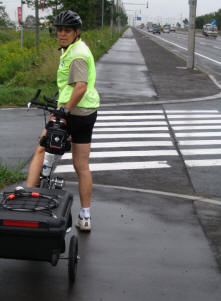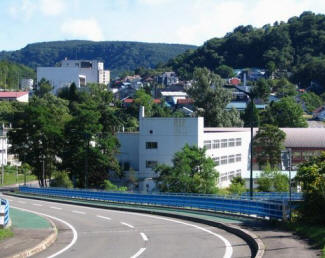 Our first meal was a pizza, as we recognized the sign, but it was a large, equivalent to our medium at a cost of $14US. We arrived at our destination when it began to rain and become dark. Arriving in front of the 'onsen' or spa bath, Steve was so tired he suggested we get a hotel and forget the bath. The hotel was $120US. I suggested we go set up camp and ride back to the onsen. By the time we got to the campground, hidden away beyond signs we could not read, we set up camp.....inside the kitchen under a ramada. Steve crashed!

I was determined to have my bath and so I did....UNDER MY RAIN PONCHO in the sink!!! We found our camping gear, tent, flannel sleeping sheet and pillows made for a most amazingly comfortable night. Or was it we were just dead tired???
Day 2 36 km. We started to experience eating from a different perspective. Point and experiment! The 'CREAP' looked interesting but was nothing but coffee creamer. 'Pocari Sweat' is an electrolyte drink that is not too bad. Never mind the curry donuts for breakfast, the Karimpan or custard filled sweat bread is great!
Then we discovered 7 Elevens and other types of convenience shops everywhere. Here they have Yaki soba or noodles in 'bento boxes' hot and very tasty. Steve found granola for a whopping $5US and yogurt more reasonable. Water does not seem to be a problem so we don't have to carry huge bottles.
Fruit is expensive although we have been biking past farms growing cantaloupe and tomatoes. All this after a few times trying to use my dads WW2 phrase book which was not so useful with words like engine oil, Howitzer and minesweeper.
Least to say, so far eating has been interesting yet we seem to find something. For dinner we stopped at a 'truck stop' and had a big meal of pork and noodles with some other strange things floating around in the sauce. We spent $14 for two meals.
Day 3 46km BATH TIME! Oh Boy is this GREAT! The Japanese sure know how to live. It is what it must have been like in Cleopatra's day with big Roman baths.
A spa is an 'onsen' and a 'sento' is a public bath house used mostly in local neighborhoods. We have only been to the 'onsen' yesterday and today. The first one, we had to ourselves. I told Steve to watch what others do and follow........ but everyone left when we came in. Did we offend or was this respect for us??


To find out How to use a Japanese Bath
(CLICK ON PHOTO ABOVE )

Never mind, we sat and scrubbed and floated in beautiful indoor and outdoor pools of water.... each in our own, separated by a fence for men and women. Last night we felt we were experienced enough to go for the big onsen. This was also, without a doubt, just what a biker needs at the end of the day. It was MAGNIFICENT!
We are on our third day, headed for the coast. I lost my new high tech tail light the first day when it bounced off and into the street right in front of a big truck. Then the pin holding my trailer wheel came off while flying down a huge long hill.
Steve stopped to wait for me and that is when he noticed it was missing and my wheel just centimeters from coming off. We used a lock until we found a repair service station. The two attendants drilled a washer to fit and fabricated one on the spot, both wearing white gloves. As we drove away we got a respectful bow from both. Amazingly polite. We love this place!

In the end NO CHARGE!!!!
Steve has checked his WIFI and found a connection. This is going to be great! He is done programming the GPS by the lat. and long. from our Mapple Japanese guide books.....at least we can read the numbers. It is time to ride now.