KIMONO'S - CRYSTALS - RAINBOWS OF COLOR

Day 20 85.7km And this was suppose to be a shorter day!! How did we miss calculate another big day? Oh well, we need to get to Asahikawa to do laundry. Usually we wash out our clothes daily and dry them under the net on our trailer. At least it is sunny and we are heading down hill from this beautiful resort town of Sounkyu.

Luckily after a long 50km, traffic getting heavy, we cross a bridge. Below, Steve spots a little path with white lines like a bike trail. Low and behold that is exactly what it is! A Cycle Path!!
We are thrilled, tired and glad to be off the main road coming into a big city. We realize it is 68km long so we missed quite a bit of it.

But we enjoy every inch, and glide right into the lovely town of Asahikawa.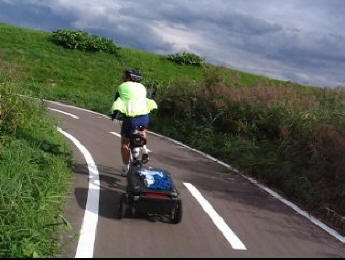 CLICK ON PHOTO ABOVE
It is a beautiful ride, quiet, through the countryside with rice fields and along a big river where Play Golf is in full swing. It ends near a big bridge where a bike race is to start tomorrow.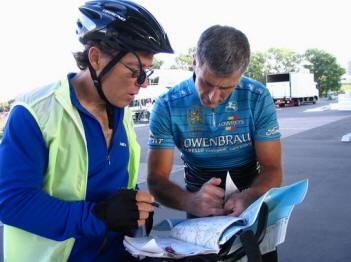 We meet Bob Hoff from Iowa who has lived here 20 years. He gives us great directions to an Italian restaurant and confirms a camp ground nearby.
It is getting to be dusk. We find the restaurant but where is the camp ground??

We ask a taxi driver, a lady who is anxious to help, but like the taxi is baffled by our Mapple.

We climb a hill (oh no, please, not a hill) and a neighbor man tries to help. NO LUCK! We see a hotel. PERHAPS?
But it is a Love Hotel, charges by the hour. No luck again and we seem to be heading nowhere. Then finally we realize we had turned about 300m too soon. Finally on the right road we find the campground just over the hill.
It is dark. We must bike to the Italian restaurant with our head lights on.

But we have a great Carbonara and Shrimp Rigatoni with wine.

Next door is an onsen reputed to be one of the best! And it is!!

We are given Yukata's (little robes) a towel (thank goodness, ours are dirty) and a kimono clad Japanese women saying in English "please feel at home."
I can not believe in just over an hour of being lost I am strolling through a bamboo enclosed outdoor Japanese garden lined with banzai trees, my little modest towel in place. No one but me among rows of glowing lanterns. Then slowly I glide into the warm natural rock pools.

Day 21 10km around Asahikawa. This is not really a biking day but we use the bikes to find a place to do laundry.
It is in a small family run hotel (we passed this one last night) and we are ushered in by a guest translating our dilemma and side tracked by a young man, Hiro, anxious to speak English.
He invites us into the hotel restaurant, where he works, for a huge Japanese meal while our clothes are washing.

We plug in the computer and as I rest my arm, the computer not fully on the table, tumbles to the floor breaking the CD Rom drive.

I am in hot water and not the onsen kind!
But the computer works ok and we relax with a huge lunch, collect our laundry and Hiro then guides us to the famous Hokkaido Snow Museum.