We are taken back centuries by just the atmosphere the city exudes. It seems almost everywhere you look you see the upturned corners of Buddhist temple roofs or Shinto shrines, Shinto being the traditional religion of Japan.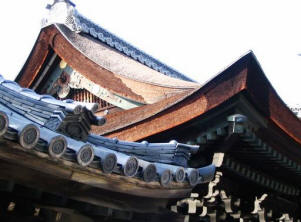 There is a huge castle, palaces, hundreds of gardens and occasionally a lady in a kimono or a geisha tripping along in the Gion section on her way to work.
There is also another side of Kyoto. It is a bustling city of over a million people with a great bus system, huge modern shopping areas, and markets, one tucked away under a stain glass roof that seem to go on for miles.
There are thousands of different types of restaurants, galleries, museums, shops and in 1997 the completion of the very ultra modern steel and glass structure of the Kyoto train and bus station.
It is a futuristic cathedral with skywalks, soaring 11 stories above the main concourse in a confusion of reflection and reality.