June is rainy season but this is typhoon season and although they come quickly, they lash their fury and are gone just as fast. It is a wet one so we don't waste time making our way on a relatively flat road to Kotohira.
I stop only long enough to ponder the little stone carved comical dragon perched on a bridge. It is a 'Doramu' a dragon guardian deity who calls for rain, slays ogres and takes children to dream land. I give the little guy a pat and off we go.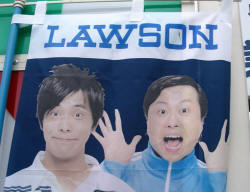 Then just as we reach Kotohira, we come up to Lawson's Dairy Store.
SUDDENLY...My front wheel skids out on a wet slippery long metal grate.....Oops, slop, down I drop!
My right handlebar catches my wrist and I fall, wreathing in pain, sprawled out on the sidewalk, like a fresh filet of mackerel!!! I'm stuffed!!
And then....in the land of sushi, as I lay squirming like a piece of fresh sashimi ........I can't believe my bleary rain drenched eyes! I gaze upward and there, there above me, gleaming like the asahi (morning sun) are the golden arches of ...................................
McDONALDS! I've been saved!
Well, scrap the camp again we now have the opportunity to try out our second type of accommodation, a Japanese Ryokan.
Steve finds a wonderful Ryokan near the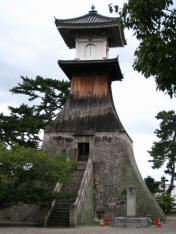 Beacon for Traveling Pilgrims, The beacon was for guiding pilgrims to the temple from out at sea.
The Ryokan is near the bottom of the steps to the Kotohira-gu shrine, once totally dedicated as Guardian of Mariners.
It is perfect. We find the Ryokans tops in accommodation. I have a maid making my tea at the little table in our big tatami mat room, a servant to make up the futon beds, full bath and shower in the room and fresh 'yukata' and towels daily.But most of all.....
........................ a real ONSEN across the hall.
I am pampered and coddled beyond my wildest dreams.
Do you suppose patting that little Doramu had anything to do with this?

My wrist is in bad shape. Just call me GEMPEI YAKI!