Tuamotu Islands

Ariel arriving in the Tuamoutu Islands the Dangerous Archipelago

June 22, 2002

Log: Taiohae, Nuka Hiva, Marquesas to Raroia Tuamotu
Heading 187
Wind 16kts. SE
Seas 2 - 4 feet

10:00AM Sunny, warm, all sails up, sailing 6.6kts once out of Taiohae Bay. 11:30AM Wind increases to 20kts. Seas up to 6 feet sailing 7.5kts on a beam reach. Just past Oa Pou lost wind briefly but back up to 10 - 14 kts into the night. It is a day of adjusting once again. Georgianna and Everett take the medication Stugeron a vasodilator used for sea sickness upon leaving the harbor. It is recommended to take only 30mg two hours before needed then 15mg every 8 hours when necessary otherwise without supervision it can cause cerebral hemorrhage. Although it is not approved by the FDA many cruisers use it. Everyone has different ways of dealing with this problem. Some eat a lot and keep full while others don't eat for a day until getting adjusted to the motion. There is even a 'Relief Band' available at Marine stores that uses a battery operated pulse and is worn on the wrist. And a new recommendation is Hyland's "Motion Sickness" homeopathic remedy that stops nausea once it starts by putting 2 to 3 tablets under the tongue every four hours. There is no prescription needed and can be found in health food stores. Each dealing in their own ways we rarely find this a problem on Ariel. She is a heavy boat with little movement. It was a nice calm day, big clouds in afternoon and a squall with double rainbow in evening.


June 23, 2002

Log: Day 2 from Marquesas to Tuamotu Islands
Heading 187
Wind 12 - 16kts.
Seas 4 - 6ft.

4:15AM wind down so engines on. 7:30AM engine off wind up. S/vBali Ha'i gives waypoints into Raroia and tide times to enter through the reef. S/vVision called on VHF as they are ahead of us and in view. 8:15AM Wind drops so motoring until 1:44PM when wind goes up to 13.9kts. Replaced the jib line as it was fraying at clew. A small squall passes behind s/vAriel's stern. Sailing. 2:09PM Wind dies so engine turned on, sails pulled in to center as wind from SE 12kts. There are many rainbows and squalls all around. 5:02PM Wind up 16kts. motor off and sailing. It is up and down all day continuously then sailed on through supper with good winds. Past s/vVision at 9:33PM off starboard side half mile away. It is nice to see friends so far out at sea. It is my sister Connie's 50th Birthday and I fall asleep wondering after this trip, which of us has more gray hairs now.


June 24, 2002

Log: Day 3 from Marquesas to Tuamotu Islands
Heading 185
Wind 14 - 22kts
Seas 4 - 6 feet

12:32AM Wind 15 kts. around to east. Sailing 7 knots. Beautiful night with bright moon overhead and squalls all around making the horizon an illuminated checkerboard of activity. Wind is up and down but between 14 and 22 knots so lots of sail trimming. Wind dies half an hour before Everett's watch is over so he turns the engine on and retires. Sails are trimmed in and the radio watch begins with Steve giving position and conditions. We discover it was s/v Dresden we past in the evening, not s/vVision, both having similar Australian accents. Wind stayed mostly SE today some squalls on and off. Saw a rain or water spout off starboard stern. Heading into a cloud front ahead, beating most of day as wind mostly from the east but a comfortable ride. After all the hiking and exercise on land for several weeks it is hard to eat much as the body seems to think it is time to rest. But double baked potatoes and salad satisfy everyone and it is a good night with full moon above.


June 25, 2002

Log: Day 4 from Marquesas arriving in Raroia Tuamotus 448 nautical miles
Heading 189
Wind 10kts.
Seas 4 - 8ft.

12:00AM motoring 6.3kts with wind speed down to 10kts but must keep speed up to reach the cut into Raroia in the daylight. 1:00AM wind up to 13 - 14 knots steady so engine turned off. Sailing 6.8kts but winds drop before sunrise so engines turned on once again. 5:00 to 8:00 AM experiencing 12 foot sea swells. Hear on radio it is a storm from SE that is causing these conditions. Wind remained up all morning so sailing 8kts and a comfortable sail even with huge sea swells. 11:50AM range markers for the cut into the atoll of Raroia is spotted also turbulent water that looks like a reef dead ahead but realize it is the overfall of water coming out of the cut. Porpoises come along side and skim our bow wave as we near the entrance. We have checked the tide tables and know to enter at slack tide as the outflow can exceed 8 knots and slack water is brief. It is not quite slack tide but we enter the cut. S/vAriel crashes through standing waves as speed drops to 1kt. over ground in the violent churning water. Estimated speed of current is 4 1/2 knots. The coral can be seen on either side cutting deeper once inside. Visibility is excellent, up to 12 meters deep. This atoll is 15 miles long and 8 miles across. We motor 2 more hours inside the lagoon to reach the east end. Coral heads and sand patches can be spotted easily and a bow watch is necessary at all times. White sandy ringed atolls covered in coconut palms pass by. 2:00PM we meet up with Bali Ha'i anchored alone off one of the many islands making up the atoll. We are invited to a fabulous grouper dinner caught on the crossing and told of spectacular dives, lots of sharks and black pearls.


The Tuamotu Islands

Up until a few years ago, and the use of GPS, few cruisers entered this area known as 'The Dangerous Archipelago. Variable currents, sudden storms and difficulty seeing the breakers of the reefs until within 2 miles make it still a hazard even today with electronic charting. The co-ordinates may be right but the positions are based on century old surveys. All of the atolls are only as high as the tallest palm tree and not all have trees. In 1947, Thor Heyerdahl's balsa raft Kon-Tiki was washed up on the windward reef of Raroia Atoll . Wrecks can still be seen scatter around many of the 78 atolls that make up the Tuamotu the largest group of coral atolls in the world. Only 21 have an entrance pass, 10 have two passes and 21 have no pass at all. Once inside, the lagoons are scattered with coral heads and must be navigated only during hours where the light is behind. Hazards continue in the way of abundance of sharks especially the feared Lemon shark and the overall contamination of ciguatera or fish poisoning of the reef fish.

The Tuamotu people had always lived from seafood, pandanus nuts and coconuts. Few fruits and vegetables are grown here and almost impossible to get. Fresh water is also scarce but huge plastic rain catchment barrels can be seen throughout the islands. Many of the atolls are uninhabited and others have only a few hundred inhabitants. . They were once known for their pearl diving of up to 30 meters with just goggles but that ceased with over-harvesting until the Japanese introduced them to cultured pearl farms which are now world famous for their black pearls. With this, the population is increasing and spreading prosperity. Drift diving in the passes has become a big sport but only a few islands have dive facilities. Therefore this is up to the cruiser to find and explore many of these sites on their own.


June 26, 2002

Anchored off the east end of Raroia in company with Bali Ha'i. It is truly a paradise. We snorkel on a sea mound about 60 feet across but only about 20 feet deep. The fish are a vibrant iridescent blue with black strips, violet and lime green, and many corals of unusually vivid colors and shapes like nothing we have ever seen before. Doann says she saw two black tip sharks. The lemon sharks are dangerous here. One pearl diver was recently bit in the hip so we were warned to get out of the water if they appeared. We did not see any but we did see a storm brewing on the horizon so ended up beach walking where we found it just as interesting with beautiful yellow and red crabs and breathtaking rainbows out at sea. We ended the day helping Doann and Wayne open and clean many oysters but found no black pearls inside.

East end of Raroia Tuamotus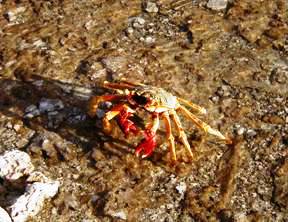 Double rainbows at sea Yellow and red crabs

Wayne and Doann on s/v Bali Ha'i

Opened Black Pearl Shell

June 27, 2002

Log: East end Raroia to Raroia village 10 nautical miles
Heading north
Wind NE
Seas calm
9:08AM Main up, jib out, motoring back toward 'the cut' and the village of Raroia. Many motus are easily visible as yellow patches in the deep blue but a vigilant watch is necessary as many are just below the surface.

Steve keeping an eye out for tiny motus
The best time to sail among the motus is between 10AM and 2PM with the sun behind.
With one crew on the bow, and two in the cockpit, Ev at the helm, the captain goes below to check the GPS and chart. A slight argument breaks out when Ev feels the captain should always let him know when he goes below so he can keep a good lookout while the captain feels it is the responsibility of the helmsmen to ALWAYS be vigilant without being told.
We motor past white pristine beaches backed by coconut palms and tiny stilt houses which are the black pearl farms.

Black Pearl Farm
Young French girl selling coconut shell and black pearl jewelry

10:45 dropped anchor. We meet a French couple who live in a tent on one of the outer motus and kayak up to Ariel to show us home made jewelry of coconut shell and black pearls.
Later Steve does his first 'drift dive' in the 'Cut' one of the best drift dive spots in the world to even rival the Red Sea and Barrier Reef. He rides a 5kt current over an undulated bottom from 15 to 60 feet with a gorge at the end. In all it is an exhilarating ride in company with sharks and turtles.

June 28, 2002

Log: Raroia to Makemo
Heading 243
Wind ESE 16kts
Seas 6 – 8 ft

12:45 PM We are on our way through the cut after a day of trading our limes we picked in the Marquesas and traded for black pearls from a family ashore.

Raroia family happy to trade Marquesas limes for black pearls
We motored 2 ½ nm around to the outside of the island where the edge drops off in a reef wall. Following instructions from the skipper of s/v Vision we lower the anchor carefully onto the islands edge while Ariel's bow comes over the top of the reef.

Following s/v Visions instruction on anchoring on edge of a reef

Bali Ha'i and Ariel tied stern to bow until Ariel's anchor lets go!!!
Carefully we inch back leaving anchor precariously hanging onto the coral wall and s/vAriel floating off soundings in hundreds of feet of water. We snorkel and dive the wall all the while s/v Bali Ha'i is tied to our stern. Suddenly we found s/vBali Ha'i now stern to stern with s/vAriel and realize we are adrift, banging into each other while s/vAriel's anchor hangs freely having fallen off the reef and into the deep. We unleash our friends and send them on their way. We follow once we manage to retrieve our anchor which was a major job for our windless.

6:45 PM without dinner we are suddenly on our way to Makemo. We must time it right so we do not arrive at low tide.

S/vAriel headed for Makemo after near disaster outside Raroia


June 29, 2002

Log: Raroia to Makemo 78 nautical miles
Heading 244
Wind 10-15kts
Seas 4 – 6 ft

12:00 midnight. Wind is down now and sea swells give less roll and only 12 feet off our stern. 12:45AM Changing course to port as we round the island of Taenga. Heading 210 which is more comfortable yet. Wind 17kts, boat speed 7kts. Four hours to go with ETA Makemo 5AM which is too early as high tide is at 7:40AM. 1:00 AM jib rolled in further with no main and mizzen on single reef. 3:00AM Wind 18kts so double reef mizzen. 5:30AM hit a squall with 20kt winds but sailing much easier now.
6:30AM entering Arikitamiro pass ahead of Bali Ha'i with and ingoing tide between 1 ½ to 2kts. Range markers turned off as we entered.
7:00AM Dropped anchor off Makemo but dragged anchor so reset and anchor for good at 7:15AM.

Typical wood and tin roof house on Makemo

Went ashore and walked the crushed coral roads around the village to discover very friendly and French speaking natives. They invited us into their homes to inspect their private collections of black pearls.
Inside a house on Makemo
Some pearls were huge and worth thousands of dollars yet their homes made of wood and tin were very modest. Each did have a satellite dish outside however.

Black pearls and bone carvings
Irregular black pearls
And a few perfect asking 1 million French franks

We were shocked to find most families have a huge bag of black pearls, many irregulars but much more interesting than the perfect round ones. Watched canoe races in celebration of the day of Independence from France.

June 30, 2002

Makemo Island Tuamotus and the Black Pearls


It is a relaxing day as we wonder around from house to house inspecting black pearls. The Japanese came here to teach the natives about cultivation of the black pearl. Unlike the Japanese cultured pearl which is white, the Polynesian black pearl is created only by the giant black lipped oyster which thrives in the Tuamotus lagoons. It takes about 3 years for a pearl to form in a seeded oyster. Every year about a million black pearls worth US $15 million are exported to Japan, Hong Kong, Singapore and the US making the territory the world's second largest source of loose pearls (after Australia which produces the smaller yellow pearls). The production of cultured pearls is now only second to tourism. There are hundreds of co-ops and private farms operating on 26 atolls, 14 large companies account for half the production with the rest coming from 50 smaller companies and 450 family operations. Everyone is wearing pearls, big and small and of varying shades of black pearl.

Doann s/v Bali Ha'i and Sherri s/v Reflections choosing their pearls here $4 US a piece

We meet Felix who has a huge black pearl that is perfect and is asking 1 million franks. He has a pearl farm with 1 million oysters; about 50 percent produce a good quality pearl.
Another native, Beco, does carvings in the pearls. They look like Chinese beads and cost about US$24 each. Federico takes us into his kitchen table and pours out hundreds of imperfect black pearls which he sells for US$4 apiece.

We had a nice lunch with cruisers from s/v Reflections and s/v Bali Ha'i in town relaxing and enjoying the slow pace. Then off to a small reef where we snorkeled in water with very clear visibility of about 200 feet. We saw many beautiful fish including a Crown of Thorn star fish.

July 1, 2002

Log: Makemo to NW end of Makemo 15 nautical miles
Heading 283
Wind 10kts
Seas flat inside lagoon

11:30AM Went ashore to get bread but none available. Found 1 pint of Mayo for US$6, and a 12 oz. jar of Skippy peanut butter for US$5 and a can of coke is US$1.60. Passed on all.


Shelves are sparely stocked on Makemo

12:30PM anchor up and heading NW from the other pass past small submerge red motus and reefs and half submerged buoys mainly off shore in front of native houses as they have rights of water off their properties. 2:30PM Heading into the sun it is becoming increasingly difficult to see. It is best to have the sun behind so leaving earlier would have lessened this problem. Everett can not see well so Steve leaves him at the helm and climbs the spreaders. From this position he can relay for Everett to turn port or starboard but Everett has trouble hearing so Georgiana is set up as a relay. It is imperative that the captain's instructions are carried out but when the Capt. calls for a 5 degree turn to port Everett turns but feels another 5 degrees won't hurt however at times there are reefs on both sides. Steve becomes extremely agitated and vows never to leave this late or leave another person at the helm in these conditions.

Gayla beachcoming on remote atoll in Tuamotus

4:30PM we anchor off a long white sandy beach of a palm covered atoll 16'30.881 S and 143'49.282 W after taking a wide birth around a starboard reef.
The east end of Makemo, this soon becomes another one of our favorite anchorages, deserted and remote.

July 2 & 3, 2002

Log: Anchored at 16'30.881 S and 143'49.282 W off NW Makemo A fabulous two days at anchor off in a remote and uninhabited island. Ashore we find on a small grave stone adorned with shell necklaces with the date 1901.
Walking along the shore we could see baby sharks in the shallow water and also clams with vivid blue lips.
Clear shallow water reveals vivid clams
The air is warm and the breeze delightful. It is a true unspoiled paradise.
But like many days we are forced into taking care of repairs and maintenance. Parts are changed on the water maker, fuel is transferred from the spare tank, a tear is repaired in the dinghy pontoon, the zipper changed on the other pontoon and a new valve installed. These are times we wish we had experienced crew to help. Instead we find Georgiana and Ev reading and napping which is causing a lot of stress aboard. But not as much as fellow cruisers aboard s/v Dreamtime. We hear on the Net that they hove to outside the harbor in Papette Tahiti to wait for daylight, but fell asleep. Their Island Packet drug anchor and went up on a reef. A salvage company came to tow them off for 10% of the value of their boat. They had two choices, one with a guarantee to get them off safely without damage the other with no guarantee. They took the guarantee at a cost of US$30.000 to haul them off. Not so lucky was another cement boat, a week before, in the same area that did not take the guarantee. Within 45 seconds of being hauled back off the reef into deep water the boat sank in 45 seconds.


July 4, 2002

Log: NW Makemo to Tapuhiria Pass 9 nautical miles
Heading 285
Wind 13kts.
Seas in lagoon flat

Our last day in this anchorage July 4th went off with a BANG when Steve shot off his little black powder cannon for the benefit of s/v Reflections and s/v Bali Ha'i both Americans.
9:30AM It is much easier to see the motus and reefs underwater and can see the breaking water on the reefs outside between the atolls to our port. Followed s/vBali Ha'i into an anchorage by the cut and at 10:50 dropped anchor.
It was a gorgeous sunny day we spent drift diving the cut and climbing the spreaders for photos.

Porpoise come alongside Ariel Steve zipping around in Ariels' dinghy
Snorkeling and drift diving

July 5, 2002

Log: Tapuhiria Pass Drift Diving and Drift Snorkeling

Drift diving is an effortless and relaxing way to experience the underwater topography because you simply glide along with the current. In the Tapuhiria pass the current runs about 5kts. It is best to go outside the reef and drift into the lagoon. The divers enter the water and the dinghy tender motors above them through the cut and waits for them to surface. We find it is hard to see the divers when they surface so a dive flag or other bright object to wave from the dinghy is a must so the divers can find the dinghy. Several passes are made, all with much enthusiasm feeling the rush of flying underwater. Huge pelagic fish such as sharks are notices drifting along as well as turtles. The snorkel drift was along the wall and offered much beauty with a more relaxed drift. We saw unusual fish some curled like fallen leaves in yellow green and blue. The experience was made much more special as we were accompanied by Doann and Wayne of Bali Ha'i both exceptional and divers.


July 6 & 7, 2002

Log: Makemo to Tahanea 48 nautical miles
Heading 234
Wind 10 – 15kts SSE
Seas 4 – 6 ft

5:30AM as dawn breaks anchor is raised. Any later and the sun would be in our eyes. A rope had been tied to the anchor the night before to insure ease of releasing the anchor in a coral strewn area. 6:15AM through the pass on an out going current and assembled the whisker pole, main reefed, mizzen up. Continued to sail higher to keep the sails full. Now on heading 215, a good direction, so we shook out the reef in the main. Was also a good heading with the wind and seas so had a comfortable 8 hour sailed. 11:52AM main reef put back in and engine on as wind died to 2kts. Pole taken down. Motoring 5.4kts. 12:45PM Tahanea in sight. Coming near the cut just before high tide but was flowing out with 1kt against us. Dolphins escorted us in leaping and darting along side s/vAriel. We anchor off shore with a 68 ft. Swan, s/v Avalon and spent the next two days beachcombing and exploring one of the reputedly most beautiful atolls in the South Pacific.

We can not agree more.
July 8, 2002

Log: Tahanea to Papeete Tahiti Day 1 – 120 nautical miles
Heading 310 W
Wind 10 – 15kts
Seas flat behind the atolls

7:15AM Steve dives to retrieve the snubber and hook that parted last night in a squall that changed the wind to north then west then south bringing huge waves rolling into the anchorage with wind at 15 – 20kts. It was an uncomfortable night and Georgiana was up all night worried. We are anxious to get them to Tahiti. Anchor up as it is low tide, current flowing out of the cut. 7:30AM Jib, main and mizzen up just after the cut. The overfall is short and turbulent. Passing Tahania's west end sailing beautifully at 5.8kts. Long narrow reef off port side, some places only one single palm tree. 11:08AM Rounded end of Tahanea between two atolls with unsurveyed areas of reef on the inside. Two shipwrecks off starboard. Can see white caps over submerged reef. Turned on engine to stay high of the reef for about 15 min. 11:45AM Heading 149 Wind south 14kts. Seas up to 6 feet but clear of all reefs. Nice sail for most of day until 9:00PM when wind dies to 5kts and engine turned on.
July 9, 2002

Log: Lat. 17.04 S Long. 146. 32 W Day 2
Heading 250
Wind 9.4
Seas 4 – 6 ft confused

12:42AM Very dark night, air cool as we are in the southern hemisphere. Light air at night so motoring until 7:30AM. Wind up to 15kts. Seas 2 – 4 ft. overcast. Shook out reefs, sailing 6kts. Georgiana and Everett do not go out on deck at night so we must be up on their watches doing sail changes. The days are spent catching up on sleep and usual routines. 2:00PM Changing auto pilot manually to remain sailing on a close reach. Sun out but cool and comfortable. Wind 11kts. Boat speed 6kts with less than 100 nm to go. 5:04PM wind down to 9.5kts. Boat speed 4.4 so motor turned on. Steve ties off the helm in order to have a clear signal for sending email over the Single Side Band Radio. Coming topside just after sunset I notice the glow from the setting sun BEHIND us like a sunset in the NORTH! We were headed in the wrong direction!!


Glowing sunset at sea