Moorea
SOCIETY ISLANDS
July 23, 2002

Log: Maeva Beach Tahiti to Moorea 15 nautical miles

It is now official that it is an El Nino year but the strength and activity is to be determined but westerly winds are in effect. We have found that it has been so much easier to 'go with the flow' when it comes to being on our own without others aboard. There are no time frames to dictate where or what we do. It has also proven to be easier taking care of Ariel and her maintenance. We have decided if we ever have others aboard again it will imperative that everyone is a team player and that any problems or health issues be revealed beforehand. So we leave Maeva Beach with just us two and head for the smaller, quieter and visually more spectacular island of Moorea.

A happy captain in command of his ship heading for paradise!

Magnificent anchorages on the island of Moorea
We meet up with Christine and Martin And all wonder about the 74 year old
s/v Odyssey of Canada Scandinavian single hander who made it this far
in his home built 21 foot sailing canoe s/vPeter Pan.


Huahine
SOCIETY LEEWARD ISLANDS

July 28, 2002

Log: Cooks Bay Moorea to Fare Huahine 86 nautical miles

This is our first overnight passage with just the two of us in a long time. We are well prepared. It is an easy sail with winds NE 10kts Seas 2 – 4 feet. It was a beautiful night with shooting stars off the port stern.

We entered the cut into Huahine at 8:15AM with spectacular views of a lush green mountainous island and in the harbor off the quaint tree lined boulevard of Fare. There are two passes into Fare which are known to be excellent surfing areas with consistently excellent lefts and rights. We anchor to the left of the cut among 20 other boats.

s/v Ariel's equal masts seen at right anchored in front of Fare, the main town with it's white beach along the west side of the main street where the sleepy town unfolds.

The variation in vivid blues surrounds Huahine due to the depth of the water and lagoon

Scooters rent for 5500PF(120PF=$1.00US)

Crossing the July Bridge over a narrow span of water, on rented motor scooters, that separate Huahine Nui from Huahine Iti. The two islands that make up Huahine when viewed from the sea have the shape of a reclining woman.
Gayla finds few changes from previous visit in the1980's when it was just being discovered as a backpackers paradise.
Hotel Sofitel Heiva Huahine Guynettes Guest House

A few nicer hotels on Huahine but with fewer tourists than Tahiti or Bora Bora.

An unforgettable day feeding the sacred BLUE EYED EELS! Legend has it that the eels brought fresh water to the village of Faie, one of the eight villages of Huahine.

Blue eyed eels – Faie Huahine
Visiting a working Pearl Farm in Maroe Bay
Smiling natives selling taro and bananas and a house on Huahine


The earliest traces of pre-European 'marae' or places of worship, in French Polynesia
The marae are built in the open air for celebrating the religious and social life of the clan


The old Bali Hai Hotel damaged in a cyclone in 1998
once the site of a village over 1000 years ago.


Cruisers from s/v Star, s/vNyathi and s/vTree of Life join
in the fun of rebuilding on the Bali Hai beach during
evening beach parties

s/v Tree of Life first met Ariel in Portugal 1999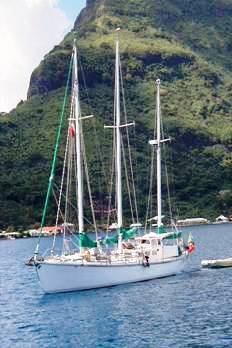 Schooner Star on vacation from chartering in Nevis of the Caribbean.
The star of s/v Star is daughter Pearl, seen here with s/vAriel's crew aboard Star.
Reflections at anchor in Huahine

Tahaa and Raiatea
SOCIETY LEEWARD ISLANDS
Aug. 2,2002

Log: Huahine to Tahaa 21 nautical miles

Tahaa is known as the 'Vanilla Island' do to it's many plantations of the vanilla plant. It is shaped like a hibiscus flower with four long bays cutting into the south end. We spent one week here anchoring in several of these secluded bays then eventually circumnavigating the island.

The water around Tahaa is more a navy blue color, much deeper and with fewer cruisers. Often times we had an anchorage to ourselves.

We did some hiking and climbed up to Vaitoetoe pass lookout passing streams and grotto's through shady ferns and wild vegetation along the way.

We even found red raspberries in abundance. The views were spectacular and Tahaa seemed so wild with fewer people and yet the people were much friendlier than many of the other more touristy islands.

One day we took a ferry across to the island of Raiatea.
This is the island where there is boat storage and also an Internet. We found friends aboard s/v Vision, s/vZulu and s/vStar all tied to the docks. There were also a few big cruise ships moored off the island that we were told were going bankrupt.
Our time on Tahaa was intertwinded with days of rest and relaxation, visiting with fellow cruisers we had met in the Galapogus , s/v Eros, and meeting new cruisers aboard s/v Felicia. Other cruisers we had been sailing with arrived and departed.
Several times during our week sailing or anchored off Tahaa we were hit with squalls, awakened in the night with 30kt winds, and woke in the AM with fog lying over the green mountains. It proved to be one of the more relaxing weeks so far yet always an adventure to what the day would bring.