Niue
Rock of the Pacific

Day 1
Sept. 12, 2002 - Rarotonga Cook Islands to Niue 611nm

8:15AM Leaving Aventu harbor
Heading 264 for Beverage Reef
Wind 20kts from E true
Seas 4 - 6 feet with a few long swells

The tide came in and tossed us about on lots of surges against the wall before daylight but calmed down, then a short shower got us as we were leaving. Said goodbye for the second time. We are ready to move on. Now, after 3 weeks in Rarotonga, many of our friends have set sail ahead of us. Then just as we were leaving s/v Reflections passes us entering the harbor with shouts of great times had in Mopelia eating tons of lobster with the locals. We'd love to stay and catch up but need to get to Tonga to pick up Steve's dad who is joining us on the trip to NZ.
Raising the sails, a pin was out so replaced it. Then the cable holding the dinghy broke, so fixed that.
By 9:40AM we were all set and sailing 7.8kt. We hear on the radio that s/v By Chance is 80nm ahead and s/v Pale Fire is leaving Beverage Reef tomorrow for Tonga. s/v Another Bold Venture and s/v Amonetus are all headed for Niue. We sail wing and wing throughout the calm night, winds down, water lapping at the hull and jib creaking in the light air. Boat Speed 5kts. Lots of stars out tonight.

Day 2
Sept.13,2002

Sunny warm day all day and still sailing wing and wing on a broad reach until noon. Jib to port side, wind down to 7kts. Then we realize Steve's dad arrives on the 21st so no time to stop at Beverage Reef. s/v By Chance and s/v Another Bold Venture are also searching for that SE wind but Dez on Russell Radio, out of NZ, reports not until late tomorrow. Another clear calm night, flat calm with a bright moon above.

Day 3
Sept. 14,2002

A call from Matt on Pale Fire after the 7:00AM Net, states that Ryan thinks he has a hernia and asking for medical advise. They are 280nm from Vava'u in Tonga. I offer my best advise and agree that they should contact a relative via radio who is a doctor. His advise is the same, and both had advised Matt to take the helm and leave Ryan free of any strenuous duty. It becomes a rough day all around. We hear also on the Net that 30kts of wind are expected this side of Niue. We lowered the pole and lashed things down topside. Wind SW then S. May take 5 hours to clock around but by noon the wind is already up to 25kts true...main and jib reefed. Wind is rising quickly to 30kts. The lid on the BarBQ comes loose and Steve must go out of the cockpit to connect it. Dez on Russell radio says this front is moving along slowly stretching east and west and we are paralleling it. The wind is staying up and waves are huge. Thought this was to be over in a few hours but we seem to be flying along with it. Water is rushing past the starboard ports as we heel over and they dip into the water. For the first time in ages we have water flying up over the side and into the cockpit. We hear on the radio some of the women on the other boats in the same condition are down and out battling sea sickness. We had our hot meal at noon so no cooking in these conditions tonight. I find solace in the crew berth below when not on my two hour watches 9-12PM and 3-6AM. It is just too difficult to walk around below with the boat heeling over and rolling back and forth. By midnight the seas are up 10 to 12 feet! Due to the conditions we sail right on past Beverage Reef unable to enter for a much needed reprieve.

Day 4
Sept. 15, 2002

It is a long night. Our bodies are sore from the constant moving even while in the bunk. Can hear the wind howling, seas rushing past, lots of banging of dishes and pans. The noise is the worse but looking out of the hatch at the huge seas, now up to 15 feet with white caps blowing off the top is a close second. The thoughts of whales is also unnerving as this is the time of their migration in this area. s/v Pale Fire announced they had heard them under their boat while anchored in Beverage Reef. By daylight the winds drop but still gusting. On the AM Net we hear s/v Aeolus blew out a main sail in the night. We are getting seas from both the S at 12 -15 feet and also from the SE so very confused with lots of unexpected waves breaking against the hull. There is a trough of weather heading out of Tonga for Niue so several boats are leaving Niue today. We get a reprieve when winds drop between 15 - 22kts gusting to 25kts during the day. Toward evening we eventually end up with diminished winds so sailing wing and wing into the night with the pole out port side. We pass s/v By Chance and s/v Aeolus. As the moon comes out we can see them off our port side about 3nm away. It is consoling to know we are not alone out here.

Day 5
Sept. 16, 2002

By 5AM we are heading into the west side of Niue. The island appears off our starboard side in a overcast, slight drizzly morning. The deck is full of flying fish one inch long. The boards we got in Ecuador for steps up the rigging to watch for reefs, disappeared to our relief, after hauling them all across the S.Pacific. Moon Shadow radioed to tell us about a mooring next to him so we motor in the last few nautical miles, pull right in and tie up by 7AM. We call Niue Radio channel 16 to announce our arrival.
s/v Ariel at anchor off Niue
Known as the 'Rock of the Pacific', one of the world's largest coral islands we find ourselves being blown in to Niue after 611nm, a hard full 4 days of sailing. We are not the only ones at the whim of the wind.
Anchored off our port side is the square rigger s/v Victory, a replica of Magellan's vessel of the same name. Aboard are 4 Czechoslovakians in their 30's, who built the boat out of wood from the forest and have never been to sea or done anything like ship building before. They admit they never reef the sails and just go where the wind blows, even if it blows them backward. They never know which way they will go or where they will end up.
Niue is slightly less than 1.5 times the size of Washington DC. The 64km of coastline are rugged with steep limestone cliffs and a central plateau.
In order to land in the dingy we must motor into the wharf where a huge crane is lowered to pull it up by a huge hand crank. Just days before our friend Pat on s/v Motion had to be evacuated from her boat with a bad back. It was an amazing ordeal trying to get the stretcher out of the boat and into the dinghy. At the same time the attending physician became sea sick. Then she had to be lifted up onto the dock in the dinghy and taken to the hospital for a 4 day stay. Also the head stay on s/v Motion had broken coming in. Fortunately friends aboard s/v Scott Free and s/v Odyssey of Canada were there to help. Pat was up and walking when we arrived and ready to fly to Tonga once the two other boats arrived to take her on until Dave, her husband, could get s/v Motion's head-stay repaired.
We came up to Alofi the capitol and checked into Immigration and Customs which was attached to a Duty Free liquor store. Niue is the smallest self governing territory in the world but has a free association with New Zealand. We did not have to pay anything to check in. The island has population of under 2000 which gave the impression it was all but deserted. The small population is Polynesian with 200 Europeans, Samoans and Tongans. We found the people very friendly and welcoming.
We rented a 125 Suzuki motorcycle and Steve got a Niue Drivers License for $2. We stopped at Ana Ana lookout and found the old burial grounds in a cave full of skulls and bones.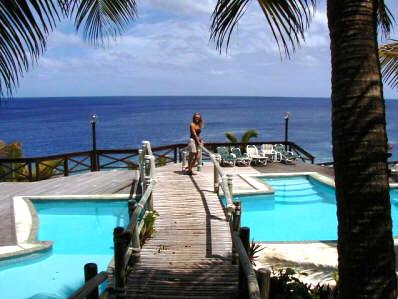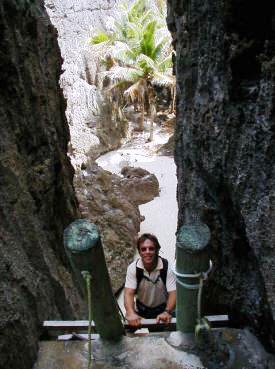 Lunch at the beautiful Matarai Resort Climbing down into Toga Chasm

Limu's salt water pools Outrigger storage in cliffside cave Malipa cool fresh water pools