Leg One Darwin to Kupang

Hundreds of spectators, on both land and sea with a vantage point of the starting line, came to witness one of largest organized rallies in the Southern Hemisphere. At exactly 11AM on July 21st over 110 sailboats, including 3 power trawlers and 2 racing boats, left Darwin Australia for the 472nm sail to Kupang Indonesia on Timor's south coast.


It was a spectacular sight as horns honked and helicopters flew overhead getting a birds eye view of the first two boats to cross the starting line, Helsal II and Australia Maid the racing boats accompanying the fleet. A second fleet of 15 boats were to follow in one week.
Racing yacht s/v Helsal ll s/v Zarafet s/v Piping Shrike s/v Pegasus
Under a cloudless sky dozens of spinnakers were unfolded in the 15kt. southeast breeze. By 3PM the sun was shining through dozens of brightly colored spinnakers making a beautiful sight
.

s/v Billabong
s/v Baker Street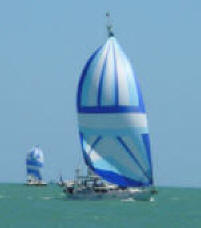 Near s/v Ariel was s/v Billabong and s/v Baker Street while good friends on s/v Strider, Icicle and Zarafet made radio contact from behind reporting dyeing winds and seas to one meter.


s/v Icicle I
By afternoon s/v Ariel also was without wind as it shifts to the NE. We steer 5 nm off course during the night then jibed back by morning as winds resume 10-15kts from the SE. It was a long first night with only five boats visible surrounding s/v Ariel.
By the 0800 radio sched on the second day Helsal II was 12 miles ahead of Australia Maid and the rest of the cruising boats were spread out over 60 miles behind. Sailing vessels Briana, Gentle Lady, Icicle, Hanalike, Island Fling, Enzwell, and Mico Verde were bringing up the rear and forming their own little fleet at a more relaxing pace.
The second day is usually the roughest day after sleep interruptions in the night, adjusting sails and getting used to three hour watches. We dozed off and on during the day keeping alternating watches, talking on the VHF to other cruisers, eating light foods and happy to not have any seasickness.
At dusk we could see only a couple other boats lazing along also in the light winds. We set our jib to starboard and sailed into a moon lit night.
s/v Ariel
s/v Ariel
Day three is HOT as wind is almost nil 2 - 5kts SE but waves are calming down and although most are motoring it becomes more enjoyable except for the engine noise. Despite the fact there is little wind, the light weight racing boat s/v Helsal crossed the finish line in Kupang at 18:05PM with Australia Maid 20 minutes behind. We also hear Baker Street had to hand steer due to autopilot problems and s/v Amoenitas got a sprained wrist. The rolling conditions subsided during the day and winds came up from the ENE during the third and last night.


s/v Ariel alone at sea...... with 109 other boats somewhere out there
By 07:56AM s/v Ariel is into the passage of Selat Rati on the rallies waypoint #4. The wind picked up to 15-20kts as we entered Salet Seman. At 1:51 and 59 seconds s/v Ariel streamed into Kupang the 16th following sailing vessels Varlee, Moonwalker and fast catamaran Cat'chus who screamed over the finish line first in the cruising fleet. By nightfall there were 52 arrivals. By day six, 97 yachts had arrived leaving three from the first fleet yet to come in. On July 28th the second wave of 15 yachts left Darwin and by July 31st sailing vessels Virus en Mer, Brother Wind and Out of the Bag arrived in Kupang with Blue Tango, Four Star, Icy Red, Pura Vida, Reve de Lune, Sonrisa and Sunbird III coming in by night. By August 2nd all yachts had arrived and rally events were well under way.