San Blas Islands
Panama
Jan. 5, 2002

Log: Cartagena to Isla Del Rosiaro 20 nautical miles
Wind N 20 kts
Seas 4 – 5 feet
Sunny, hot

A consensus was taken and the decision to go first to Isla Del Rosiaro was made. This would allow time get back into the movement of the boat, finish stowing the provisions and basically prepare for sailing. We check out of Colombia through the same agent that checked us in. All deck gear, fenders, life sling, etc. are put back out, as they had been stowed below due to warnings of petty theft. Awnings were taken down and a new switch put on the electric windlass when the old one fails. The anchor chain is covered in sea growth so is scrubbed and washed down as it is hoisted up. We take the narrower entrance out of the harbor past a fort. The wider entrance, Boca Grande, has the remnants of a stone sea wall just under the surface of the water built for defense purposes two centuries ago. Just outside we find the wind howling, with white caps on the sea. We take a broad reach with main and jib up sailing 7kts. all the way. The auto pilot alarm is sounding off again. A major problem yet to be solved. The charts of this area are not good so the captain climbs the mast as a lookout entering the islands. Reefs and shallow water are everywhere. We get into a narrow spot barely able to turn around with the wind still at 20 knots and our stomachs also in knots. It is not long before the captain has guided us safely to an anchorage only to find the 3 knot current prevents our anchor from setting and we are dragging into deep water. 4:00 PM we move to an area behind two large yachts and settle in to enjoy this lovely group of palm fringed islands. Many Bogota businessmen come here on weekend retreats for sportfishing. Steve replaces the seals on the RAM autopilot and pleased that THIS, not air in the lines, could have been the problem all along.


Jan. 6, 2002

Log: Isla del Rosario to San Blas Islands Panama 183 nautical miles
Wind 0
Seas 3 – 4 swells
Sunny

We listen to David Jones private weather forecast as Everett and Georgianna have sailed these waters before and know that this time of year can be rough with huge seas and heavy wind. Today we have none. We have taken the time of coming to the Rosario's to prepare and it is proving to be a good omen. We have been finding the actual sailing has not been as comfortable or pleasurable when the priority is to just get to the next destination and get there as soon as possible. The time schedules are taking the pleasure out of cruising. This time we have prepared meals and salads ahead, and discussed our route in order to get Georgiana and Everett checked into Panama in time to catch a flight back to the states and still see some of the San Blas. We are heading west motoring at 7 knots. 12:00 noon the seas are up to 5 – 6 feet and at 2:00 PM we raise the mizzen along with the main to steady the boat from rolling. A brown and white speckled bird lands on the life lines and a yellow butterfly flutters around in the still calm air. 6:15 PM we finally get 10 to 14 knot winds so reef the main and missen, put out the jib on the whisker pole, turn off the engines and go below for a pre-made meal of hot scalloped potatoes and salad. The night watches are enjoyable as we lay in the cockpit in awe of the thin orange sliver of crescent moon on it's back rising up off the horizon.


Jan 7, 2002

Log: Tia Tupu Holandes or Kaimau Cays San Blas Islands Panama
Wind 16 kts.
Seas 5 – 6 feet outside reef
Sunny. warm

12:00 noon we reach the Holandes, a group of islands around a still pool or lagoon the cruisers call 'the swimming pool'. As we enter through the reefs we are starkly aware of a Hallberg Rassy yacht up on the reef, abandon and eerie in the noon day sun. We slowly pass by under sail through the reef as Everett tells the story of how it came to be just 2 years ago.
The other yachts in the pool called on VHF to warn he was too far over to enter through the reef but he replied that he was following his chart and was right on. He ended up…. right on…. the reef. The charts of the San Blas can not be relied upon. In one day they removed what they could, flew home and the Kuna Indians came out to salvage the rest. The story told we dropped the main and started the engine to motor on in. Everett gives a call from the helm to quickly get the sail back up. We have no engine power. Quickly the sail is up as the wind is still 16 knots and we continue to sail right up to an island, then drop anchor. The dinghy is lowered, lashed to the starboard side of Ariel and we use the 30 HP outboard to bring Ariel to a safe anchorage inside the 'swimming pool'. The transmission oil cooler leaked letting the oil out and salt water in. We have a major problem. But we are safe inside the reef, listening to the crashing surf outside the reef and happy to be here.
The other 10 cruisers anchored here invite us to a welcome ashore party with bonfire to burn our trash and a pot luck on a near-by island. The day ends with the transmission emptied out and our belly's full. We are overjoyed to be in the San Blas Islands.


Jan. 8, 9, 10, 2002

Log: Anchored in Holandes San Blas Islands Panama

The San Blas Islands and their people, the Kuna Indians, are one of the most captivating in the world. It is one of the reasons for cruising. To break away from all that we know is familiar and discover new and interesting places. So here we are, so close yet so far from the experience we have come to seek.

The Swimming Pool in the Hollandes of the San Blas Islands Panama
Georgianna and Everett are just happy to see many of their old cruising friends and Everett is overjoyed to find Kelsey and her husband Jim on Lady Starlight, both
chiropractors. He gets an adjustment while Steve tears into the transmission repairs.


Catamaran' Lady Starlight' Chris, Nick, Jim and Kelcey
Chiropractors -Underwater Video Photographers

It is NOW time to immerse ourselves in our purpose for being here. Three days are spent varnishing, repairing and adjusting. Then it is time to move on, get the crew to land and their connecting flight back to the USA. Many 'meetings' among Ariel's crew are held and issues discussed. Would Everett's back be well enough to return as able bodied crew to continue his dream of sailing to the South Pacific? Would Ariel continue on with just two if this does turn out to be an El Nino year? Is it possible to get a new transmission sent in from the USA and arrive in time to still be able to explore the San Blas? Everett wants to leave NOW for Colon. Gayla is reading "Path Between the Seas" the creation of the Panama canal and refuses to spend the next weeks waiting for a transmission in Colon which the book describes as a" hell hole." A compromise is met and everyone agrees we will sail to Protobello a nicer harbor on the mainland just 20 miles from Colon, see Everett and Georgianna off and be in an accessible area for repairs and deliveries.


Jan 11, 2002

Log: Holandes San Blas Islands to Protobelo Panama 69 nautical miles
Wind NE 10 kts.
Seas 2 – 3ft.

10:00AM the sun is high enough to see our way out through the reef. The dinghy is lashed to the starboard side of Ariel once again and we motor out, Ariel still without an engine. It is a nice 12 hour sail but we must arrive in the dark at the Portobelo harbor. Fortunately the winds die down past Sir Frances Drake Island just outside the harbor as we enter in the black of night under sail. We turn into what little wind is left and drop the sails. The dinghy is then lowered from her stern davits and once again lashed to Ariel's starboard side. We motor in under 30 HP outboard. In the faint light we can detect several other boat hulls but chose to drop anchor in 50 feet of water and wait for daylight. 12:00 midnight we are safe in the anchorage of Portobelo harbor on the mainland of Panama. Our destiny has played out in the course that we have chosen but at what expense and quality?

Portabello Panama

Jan. 12 to Jan 30, 2002

Log: Anchored in Portobelo Panama

"When life gives you lemons, make lemonade". After spending 21 days at anchor in Portobelo we realized that trying to make things happen is not always the way. It is best, especially in tropical Central American countries, to relax and let time dictate to you. Go with the flow. And so we did. Georgianna and Everett were off in two days.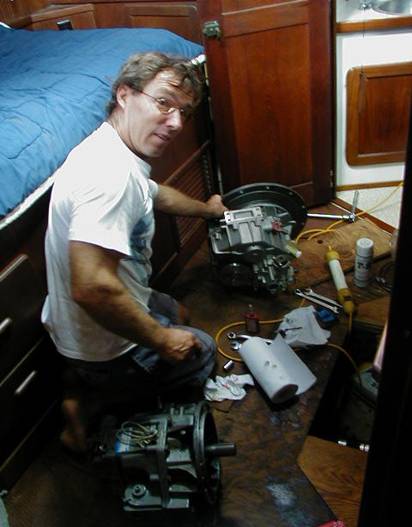 Steve installing Ariel's new transmission

A new transmission was bought in Miami and delivered to the Padro Miguel Yacht Club in the former canal zone. The cost was $1.25 a pound and $45 handling on this end but no duty as it was sent as 'yacht in transit'. While waiting, we met some wonderful people, several who are here in Portobelo for the same reason…. boat repairs. This is one of the pitfalls of cruising. No matter how well prepared you are there are always repairs. We made the best of it and found that staying in the area was a real education. We discovered Sir Frances Drake the great English seaman died here of yellow fever over 400 years ago and was buried at sea just 3 miles out of the harbor in a lead sealed coffin.

The black Christ in Portabello Panama

There is a 'black Christ' in the local church which has many fascinating stories surrounding its origin. The almost life size wooden figure is thought to imbue divine powers and stands today as the patron saint of Portobelo.
The harbor is surrounded by 7 forts one of which we climbed up for a spectacular view of the coast. Portobelo was once a stopping off place for the great Plate fleet carrying riches from the West Indies back to Spain thus a very secure protected harbor.
There was a strong tidal current and high winds, however, which sent one sailboat adrift while the owners were climbing up to the fort. Steve was able to get aboard, haul up the anchor by hand and saved the boat from heading out to sea.
The local bus rides were almost as heroic. Careening around corners at top speed, squeezing into small seats with no leg room and listening to the local music at top decibel was always an adventure but it got us to a well stocked market were the products were very familiar.
While the Americans were in charge of the Panama Canal , many products were shipped in from the states. This continues today. The Bolivar is the currency of Panama but the US dollar is the currency used and at an equal rate. There is even a Costco and Price Mart which allowed us a 5% discount with our card. We actually took this time to start our provisioning from nearby markets.
Judy & Doug s/v LIMERANCE

Rob and Deb and catamaran CAVU
And best of all we enjoyed being the 'residents' of the Portobelo harbor along with Deb and Rob on CAVU (Ceiling And Visibility Unobstructed) who are in the process of selling their catamaran and moving ashore. Panama is now becoming one of the more desired countries for people looking to go with the flow.

Sailing into Portabello s/v VENTANA

Jan 31 & Feb.1, 2002

Log: Portobelo to Linton Panama 10 nautical miles & Isla Grande 2 nm in dinghy
Winds NE 20 – 25 kts.
Seas 6 – 8ft

11:00AM pulled up all 200 feet of anchor chain and sailed out of our 'home port' of Portobelo. Right off we notice the log meter is not working probably due to barnacles building up on the impeller. The chain is also covered with little sea critters who made Ariel their home port also. We are heading a bit east of north so need the engine on and main sail up for a steadier ride.
We are now just two aboard but the distance is short. We have time to readjust to being at sea and allow the new transmission an adjustment time also. The seas seem huge after the calm waters of the harbor. But soon we round the corner to Linton and again in a harbor we drop anchor. It does not drop. After having all chain out for three weeks it does not release fully and we must come around and try again.

Linton Panama anchoring is rough when anchor refuses to drop
Leonore of Sark makes repairs in big seas

We get a call from Leonore of Sark that they are 3 miles behind us trying to get in when their engine overheats. Steve offers to go out in the dinghy but the seas are huge and they decide it is too dangerous for him so they turn back to Portobelo. They find the problem is a worn belt, make the repairs and return to Linton the next day. We take a wild and boisterous ride in Ariel's dinghy to Isla Grande about 2 miles into the wind. There are reefs all around and huge seas crashing over them. Ariel's dinghy is a catamaran design of two pontoons made of PVC rubber and a fiberglass box. It holds up to nine people and rides very steady but we still all got soaking wet.

Trudy and Bill on Leonore of Sark are awaiting the arrival of their son and his fiancée who plans to propose marriage aboard Leonore on Valentines day in the San Blas. We all have our special reasons to reach the San Blas Islands, some of the most captivating islands in all of the Caribbean.


Return to SAN BLAS ISLANDS PANAMA

The Comarca de San Blas are about as close as you can get to being the perfect dream of a tropical island paradise.
Each very small low sandbank, never more than half a mile long, are just a few feet above sea level, covered with coconut trees and surrounded by coral reefs full of life: coral, shells, fish, crayfish and lobster.


This island group of about 300 stretch some 80 miles long and about 5 to 10 miles off the northeast coast of Panama between the Panama Canal and Colombia also known as the Darien. It is a forgotten area all but for the indigenous natives, the Kuna Indians who have inhabited this area since history began here and have never been conquered.

Kuna Indian indigenous native of the San Blas Islands Panama

Because the islands are a healthier climate away from the mosquitoes many Kuna make their homes on no more than 40 of the islands. These islands are almost a state within a state having their own Assembly, their own system of taxes and their own police force with a tribal chief called a 'sahila' who see that many of the tribal customs are still carried out.
Mola
One of the most noted traditions are the 'mola's', part of the women's native costume which are made by superimposing several different colored layers of material in which holes have been cut to form a design that shows the underlying layers of color. The garment is often finished with the addition of other patches of material and embroidery.
They are then worn as a blouse with the mola's fitted tight around the front and back. The women are also attired in gold jewelry including nose ring, red and yellow cotton headdresses, and sarong-type skirts. Their arms and ankles are adorned with brightly colored strung beads.
There are still traditional medicine men and women. It is also found to be a matriarchal society. The women have an air of firmness, gentleness and kindness. They will sell the mola off their backs or right off their children's clothes as they are still a very poor society living mainly off the sale of coconuts. It is against the law for an outsider to pick up a coconut as it is the mainstay of economic life in the San Blas and all of them must be purchased.


Feb. 2, 2002

Log: Isla Linton to Cayos Chichime San Blas Islands 44 nautical miles
Winds N 20 – 25kts.
Seas 6 – 8 ft with huge rolling
Overcast

6:30AM we head out of the harbor at Linton directly behind Leonore of Sark. We are taking a NE heading 50 degrees right into a north wind but we continue to hoist the jib and main setting us on a close reach or beating into the wind all day. It is a strain on both the captain and one crew. The need to prepare Ariel with jack lines and learn the techniques for using them along with practicing safety techniques comes up again since there are now only two aboard. The captain has been on the seas for years and feels secure most of the time without lines or harnesses but the crew especially women need to know they will not be left alone should a rogue wave come along. It is a touchy subject. The captain has had first hand experience being knocked overboard 600 miles out at sea. The woman aboard heard him yell as the 37 foot boat under sail was hit by an unexpected wave. She knew to get the sails down, start the engine to go back for but one of the lines she had thrown over the side to help get him aboard got caught in the propeller. The boat now immobilized, the captain was able to swim back to the boat a good 45 minutes of pure determination. Women do come out and sail although often times thought of as a man's domain. But the fact remains we are here and have determination of our own style. We want to learn everything possible for our safety as well as everyone's, male ego not withstanding. We reach an understanding. Discussion is closed. We arrive in Chichime, drop anchor in clear turquoise shallow water with star fish all around.


Minds clear, winds blown away all discontent, seas calm behind crashing reef we reach that place….peace of mind. We have arrived in paradise!

Sunset in the San Blas Islands
Feb. 3, 2002

Log: Cayos Chichime to Isla Mormake Tupu 9.3 nautical miles
Wind NE 15 kts.
Seas calm behind the outer reefs

We wake to the sound of heavy surf pounding off our bow. Safe at anchor behind the reef we are in company of several other cruisers. All around us are low sandy islands covered in swaying palms, turquoise water with white sand under our keel. The sun is shining, the breeze strong which keeps Ariel pointed into the wind. It is a beautiful place but we would like to find more solitude.

Rounding the tip off Chicime heading for Momake Tupu past local huts

10:15AM we pull up anchor and head for Mormake Tupu 9 miles away. It is a perfect sail on calm water and then we are alone at anchor. Alone for about 5 minutes. A Kuna 'ulus' or canoe is on Ariel's starboard side. They have come to sell us Mola's.

Buying Mola's from Venancio from his 'ulus'

Stacked in huge paint buckets each mola is brought out for inspection. They are all brilliant colors with intricate designs. Some big, some small some still with the dress or blouse attached. We try to talk in Spanish but they have their own language. Hand signals and a few Kuna words, we have learned, work well. 'Igimani' means too much money, but they are all reasonably priced between $5 and $20. We find one that is faded, an older one but with good tight stitches and many layers. Eight dollars, we have bargained down only $2 but it makes everyone happy. We have been told that before the missionaries came, the Kuna's wore similar designs on their skin as tattoos. Now they have made them in fabric, keeping their traditions somewhat intact.

Native Kuna Indian children greet cruisers and welcome them ashore

The dinghy is lowered and we head for Mormake Tupu village on the small island. We search out the 'sahila' or chief, who gives us permission to visit the village. The streets are hard packed sand, narrow and lined with huts made from cane and woven palm thatch. The women back away and hide inside, the female children are pulled away also. The men and boys surround us and walk along with curiosity. There is smoke in the air from cooking fires. Huge logs are laid in a circle on the dirt floors and fed into the fire as it burns. Hammocks are used for beds and there are no furnishings or electric.

Inside a natives hut on Mormake Tupu

The women eventually come out but only behind their mola's which they are holding up to sell. Some have displayed them on a line outside their huts. We are offered beaded bracelets and shells also. We asked for a special shell and everyone scatters in all directions returning with dozens. No one is badgering us to buy only quickly holding up one mola after the other as we pass by. The women seem more stern, the men laugh. Carlos explains the designs on the mola's but we are more fascinated by the people. About 300 live in this village, I believe we have seen them all.


Feb. 4, 2002

Log: Anchored off Mormake Tupu – A sail in a Kuna 'ulus' up River Ciedras

Idelfonso and his brother Venancio, two Kuna brothers, sail up to Ariel in their ulus. They had heard in the village last night that we were looking for them. We were told Idelfonso was an excellent guide and Venancio a master mola maker. We buy two mola's from Vanancio.

Idelfonso native Kuna Indian

Idelfonso returns to take us on his sailing ulus. We first must pay the 'sahila' $10 to go onto their lands beside the river. We will be entering Kuna territory on the mainland about 3 miles away, the Kuna Yala. Yala meaning 'mountainous country'. The river is shallow and still.

Deep into the Kuna Yala up the River Ciedras
The jungle teeming with birds and wildlife. Idelfonso answers when we ask if there are crocodiles, "sometimes- not today." We ask about snakes, "sometimes – not today". We disembark and climb into the hills. They are a mixture of rainforest and yucca fields. We reach a peak where the views are spectacular. Across the jungle out to the islands we can see Ariel anchored near the sandy dot Mormake Tupu. On the way out we help three

Kuna Indians up the River Ciedras
Kuna push their ulus out the shallow river. The ulus is built in the mountains from a hollowed out tree trunk and shaped with an adze. This one is about 20 feet long, 2 feet wide. We are told that making one takes about a month. The sails are made from almost anything, such as flour sacks, old tableclothes etc. The mast and rigging are equally rudimentary.

Typical Kuna sailing 'ulus' or canoe

Back into the ocean Idelfonso walks on the edge of his with grace. The Kuna are the smallest people in the world other than a pygmy tribe in Africa. Steve is much larger. His first attempt at hiking out dumps him in the water, tipping the ulus almost swamping it completely. He tries again, this time with a few good wisps of wind he can stand tall. The Kuna's are delighted.

Steve sailing a typical Kuna ulus

Feb. 5, 2002

Log: Mormake Tupu to Ciedras 1 ½ nautical miles
Ciedras to Silar or Naguargandup Cay 6 nautical miles
Wind N 10 kts.
Seas 2 feet behind outer reefs
Sunny

11:00AM we have taken Idelfonso on as crew. He will be our lookout through the reefs for the 1 ½ nautical mile sail to Ciedras. We are delighted to have the help. Reefs are everywhere, charts are incorrect. He invites us ashore to visit his neighboring island. It is larger with two Kuna communities. We pay another five dollars for the privilege of visiting here but set off alone while Idelfonso makes a phone call. Some of the larger villages have solar powered telephones and microtowers for relay to the mainland and other islands.


Ciedras village with ulus canoes up on stilts out of water
We notice there are also cement houses on this island and occasionally a TV where groups are gathered around to watch. Nearby we hear music of rattles and beautiful chanting. It is a medicine woman in a nearby hut. The sound is mesmerizing. We sail off to a nearby cay and drop anchor alone but for the sound of the surf on the reef and the wind in the palms of a deserted island. It is as if we have entered another world.

Ariel anchored off beautiful Green Island in Coco Banderos Cays
Feb. 6 to Feb. 15, 2002

Log: Silar to Green Island, Coco Banderos and Holandes Cays 22.5 nautical miles
Winds constant form NE 10 to 15kts.
Seas 1 – 2 feet behind reefs

The days have run together, time is like the endless tic tock of a clock. There is no beginning, no end. The sun and the stars rule our life. Tranquility? We do not have to go far in any direction. Peace? The Kuna's are here but respect our privacy. We could chose our style. The San Blas has an abundance of anchorages either alone or in company. Off Green Island we found s/v Karni an Israel family we met in Greece years ago..


Old friends on S/v KARNI first met s/v ARIEL in Greece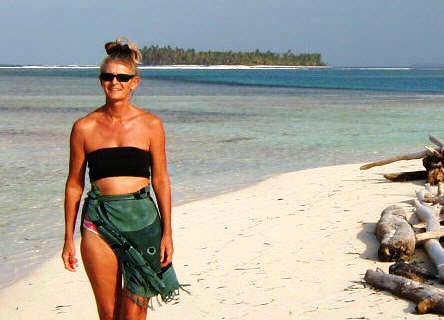 Beachcombing and exploring the
deserted islands of the San Blas
The snorkeling was fabulous. Some reefs were as magnificent as a Japanese garden, the coral and sponges awesome. Seafood was never an issue. There was crab, lobster, conch, dog fish snapper, trunk fish and barracuda to name a few. We dove, we swam, we fished. We dined on seafood with friends or alone. We explored the sandy palm cover islands. And in the end we found the San Blas the best of all the islands we have visited so far.

Feb. 16, 2002

Log: Holandes Cays to Portobelo 64 nautical miles
Wind east of north 15 knots.
Seas 6 – 8 feet
Sunny

7:30AM we leave the Holandes and two other boats. This is the same trip we took over a month ago without an engine. This time we have the new transmission but do not need to use it. We sail all day on the inside route. Half way we pass the catamaran Cavu and wave to Deb and Rob. Past Linton and Grand Island we round the corner at Little Drake island and pull into our same anchorage. It is a 9 hour trip but much easier this time staying inside the reefs and arriving in daylight.


Feb. 17, 2002

Log: Portobelo to River Chagres 30 nautical miles
Wind NE 13kts.
Seas 2 – 4 feet
Sunny and warm

8:30AM we motor out of Portobelo and raise the main sail. We are heading west to the Chagres River where we plan to spend just one more day in quiet solitude It is an easy sail but we must cross the waterway of the big ships entering the canal We monitor VHF #12 as required and report in when we are within 3 miles. We see huge freighters and several large vessels heading our way but we cross their path.
The entrance to the Chagres has a reef we must avoid but beyond that we are safely inside motoring up the river. The verdant green of the jungle envelops us.

Jungles along the River Chagres
The sound of birds and fish scattering across the surface replace sounds of water crashing on reefs and wind in the sails. The river is 30 to 40 feet deep and 300 feet wide. We go as far as the dam about 5 miles in then turn back to anchor near a small tributary. There is the smell of rich earth and orchids.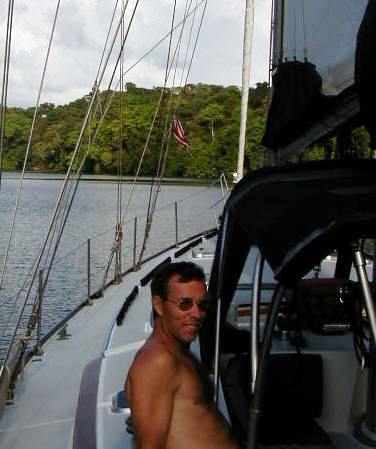 We sit in the cockpit, the stillness lulling us into a tranquil state.

Then as dusk sets in the silence is broken. From near to far we can her the vicious screeching of hundreds of Howler monkeys. They are on all sides, in the trees around Ariel. So wild and so untamed, this place up the river Chagres is like being a million miles away. But as dusk falls to darkness the glow of Colon only 8 miles away and the more distant glow of Panama city can be seen above the canopy of trees. Tomorrow we will return to civilization, back to Colon and prepare for the transit through the Panama Canal.