In the end it got us up and over the mountain pass, no sweat!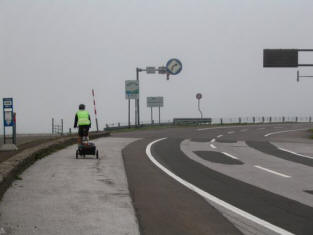 We went up and up and right into the clouds!!


Then out of the clouds, down we flew with a tail wind pushing us at 66km an hour, right into the sunshine. A quick stretch on the hot paved sidewalk and we were off again.
By 2PM we were floating in the reddish colored hot pools of the onsen.
By dusk we were bunked down, well fed, well pruned and in our dry little 'golden pagoda' tent on a green grassy spot overlooking the city of Bihiro.
Day 18 65km all day right into the wind!!! What a day! Started off with a short stop to watch a dog show (man's friend wholly). Most were like small huskies but were a special Japanese breed with a samurai disposition.

Then, paranoid we would not find a Seicomart ,we stopped at every one and loaded up.
Steve stopped 5 times to try for Internet out of the trailer along the road.

Wind got stronger the later it got.

Had to stop and see the HUGE pumpkins that were bigger than my trailer.
Passing big ski resorts and ladies on bicycles planting crops....very agricultural.

Then we got on a wide sidewalk great for biking together side by side. But then ...OOPS, a dip, a cross road then A CURB. I back off and try to tuck in behind Steve but my trailer wheel hits the curb and suddenly it rolls... UPSIDE DOWN!!!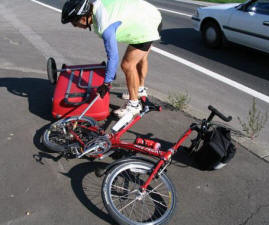 UH OH....I turtled my trailer and broke by trailer hitch.

Steve is contemplating a major repair without the right tools. I am tired, and hungry and want my onsen. I suggest we just switch the trailer to the other side as the American hitch is fine.

No problem to find a camp ground and figure we qualify for the Onne Honnkie, a plush hotel with an onsen. The most gracious of ladies in kimono's point us to granite pools and warm waterfalls in outdoor mineral spring soaking pools. Now we are Two Happy Honnkies!

Day 19 64km All the above was in preparation for our biggest climb yet...up and over one of the highest passes in Hokkaido, 1040 meters high. Are we ready?

In 15 minutes we have the hitch fixed by a machine shop that was just at the end of the campsite. No charge again just a smile and polite bow.
Even the police bow to their traffic offenders and with a white gloved hand usher them into the police car. Whenever you enter a Seicomart, every single person gets a welcome "ira-sha-imase" and a thank you "domo-arigato go shi masta" when leaving.
The climb started off with wind at our backs, overcast and cool, so quiet nice. Then a little rain and some steeper climbs.
Stopped at the only concession and their horse tried to eat our very expensive apples off Steve's trailer. ($1 apiece)

The owners felt bad then offered us hot fresh milk that tasted like hot vanilla ice cream. This is a custom for travelers in Hokkaido.
Now the climb is steeper, muscles aching, head pounding and liters of Pocari Sweat pouring out of our pores.
Lots of bridges built over ravines and still climbing.
Then..... THE TOP! We get a feeling of great conquest, are very proud of ourselves and feeling quite fit.
Now the downhill. We go flying through 3 short tunnels and find the sun shining on the other side.
WHOA..a dreaded tunnel!
This one has a sidewalk and we breeze through. It is 4.5km long.
Just when we think it will never end we break out into the sunlight beside a river in a valley heading right into the resort town of Sounkyu.
CLICK ON PHOTO
The town looks right out of the Swiss alps.
But we can't find the camp ground AGAIN!
Then we meet Tsuyoshi Tagaw a flight attendant who speaks English and shows us the way.
It is up on a hill in the woods where we pitch our tent on a bed of green moss. The onsen is two stories high with granite pools and even waterfalls on the SECOND floor. We pay a big price for this onsen, $9 each. But we deserve it!!!