WELCOME TO HONSHU JAPAN
It is late, 8:30PM as we arrive at the ferry terminal in Tsuruga on the west coast of Honshu, the middle island and home of Tokyo. A hotel was pre-booked with the help of Kanji, fortunately, as it is impossible to gesture over the phone. It is a $100 for one night. Oh No....we miss our 'golden pagoda' already. But it is nice, with loads of amenities and we sleep soundly.

Day 1 47.4km Bikes unfolded, trailer suitcase lighter, we squeeze into the elevator and make our way down from the 5th floor. We get lots of odd looks as we wheel the bikes through the lobby. Now we are out on the street of Tsuruga, a big city. We hitch the trailers onto the bikes and we'er off on a new adventure.
We see a yellow rubber line in the sidewalk with little raised dots. It's for the blind. We are the blind leading the blind as we follow it.....straight to McDonalds. Ok, I said only that once but we need our comfort food! Honshu is foreign territory! The sign on McDonalds says in English I'M LOVIN' IT'
Maybe Honshu will be ok.
Oh, no where are the safe shoulders?
Watch out for those open drains!
Look out here comes a big truck and I am up next to a cement embankment squeezed in between!
We head for a secondary route up a 13km hill (the straight flat roads seems to be the busiest) but we get a tail wind and we climb easy. WHEW!!!
Soon we are flying down into a valley and biking along the largest lake in Japan, Lake Biwa. There is even a BIKE TRAIL!!
It takes us through small villages much older looking than ones in Hokkaido.
We venture off the road on a narrow lane to visit the village of Makino. It has a huge 2 story gold statue and a very old temple hidden away among the houses.
Then up ahead is a windmill, actually several. It turns out to be a replica of a Dutch village as there are lots of dykes around due to the lake.
Also lots of camp sites along the lake. They all seem to be closed up. We decide to do the recommended Free Camping Etiquette.... wait till dark and then set up the golden pagoda.
We have difficulty finding the sento but it is right across the street. It is tiny, dark, only 1 seat and a small tub. We get a major hit of $7 each.

What is this all about?

WE MISS HOKKAIDO!!!



Day 2 50km The camping turns out to be very quiet and right on the edge of the lake.

Not bad for FREE camping.
There is also a bike trail leading us around the lake that is very nice and away from traffic. And it is FLAT! But not for long! 20km later we must cross up and over a big 300m high hill to get to the next valley.
The road is narrow with no shoulder but we figure this is about as bad as it will get. Boy were we wrong! There is a tunnel we try to avoid thinking most of the traffic will go that way. Wrong again!
Most of the traffic is trying to dodge the TOLL TUNNEL and have taken our back road. It is a nightmare! Huge deep cement ditches on our left, steep embankments on our right and the road is ONE LANE!!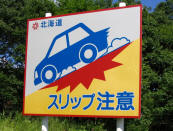 We each get trapped on a separate bridge running perpendicular to the road leading into people's houses. There is a bottleneck of traffic as cars and huge trucks are trying to squeeze by. No one moves.
Steve shouts that he is heading back down. I am shouting back, "NO WAY" ( I don't do backward especially for a tunnel) and convince him that traffic is at a standstill. We have an advantage. We wheel our bikes between the stalled cars, push them up the steep congested road the last kilometer to the highway. Amazingly no one wants to move to untangle the mess.
We escape downhill into a valley and right into a 'Family Mart' (no more Seicomart). While eating outside I see a sign for a temple.
It is almost straight up 1.5km but it was worth it!
We need a good dose of ZEN!
The temple area is full of beautiful green mossy ground cover in a forest. There were statues, like little heads popping out of the ground.

A trickling stream cuts through between the trees. A koi pond of huge orange fish captivated us. But most of all we arrive at the main hall to find a special ceremonial dance about to begin.
It was AWESOME!
IS THIS KARMA??
CLICK ON PHOTO
We fly the last 10 km downhill through thick green forested mountains into Japan's cultural capital, with more than 2000 temples and shrines.
WE HAVE ARRIVED IN KYOTO!!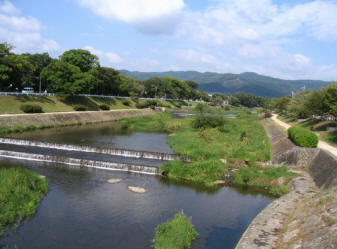 Our accommodation in Kyoto is out of the Japan Navigator web site where we also found Konichi who we first stayed with in Sapporo. It recommends we stay out of town a bit, (we are certainly ok with that) and find the YURAKUSO Guest House along the Kami River just quite alright and only minutes away from the bus lines into town.
We never see Yamamoto the owner, but in broken English by phone he tells us where the key is and does not come by for the money till the next day.
Our room is an 8 tatami mat with futons, (very traditional) It has air conditioning, computer with Internet connection (wonder why Steve found this place) a refrigerator and nice furnishings. It is less than $60 for both of us. Most accommodation in Kyoto is per person at that price.
Only one problem......no onsen just a coin operated shower IN THE COMMUNAL KITCHEN!
Now if I can only figure out how the toilet knows I am here! Every time I walk into the stall the lid on the toilet automatically opens. It is a bit unnerving but in the end (no pun intended) I find this a great feature along with the heated seat, especially half asleep in the night. Maybe Honshu is not going to be so bad after all!