Day 10 59.3km from Osaka to Kobe back on the road, things aren't getting much better. Too many people too much traffic and today TOO MUCH RAIN!!
Steve found his way back to me and we found our way to Kobe the next town but it was 3 lanes of traffic through built up city all the way.
At least there was a wide shoulder used mostly for taxi's and bus stops. Now we always have to watch for parked cars in our path or being run down from behind by a bus. But we are grateful for this lane and even 'take the lane' out in the road when traffic is minimal. We can move along quite fast on the road, zipping through caution lights.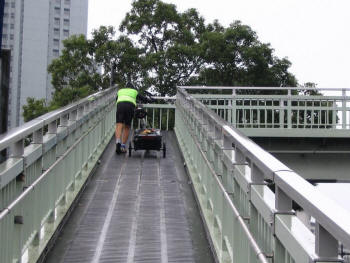 But sometimes we are back on the sidewalks and must go up ramps and over on pedestrian ways.
The cars are very quiet, small little creatures...harmless really.... and this makes us feel quiet safe. Never once do we hear a horn honk. Everyone is very respectful of bikers and each other.
NO ROAD RAGE!
We end up in Kobe train station and make a call to the Youth Hostel. After supper, in a great slurpy noodle shop, we ride another 7km in the slurpy rain.

Day 11 55.4km Still raining! We have to get out there and go for it again. We are trying to get to Himeji to see the castle and then catch the ferry and get off this busy island of Honshu. We are biking in some of the most populated areas of Japan. Now we are anxious to get on to the smaller islands.
We find a bike route, then suddenly it is gone.
We are back in the residential areas again. We are both frustrated. No screaming and yelling! But I don't fall for it this time.
GPS is put away. We take a dead reckoning and head for the sea.
That is except for one tight spot on the path where a lady is walking her 4 dogs. Steve rides by and the dogs go bizzerk!
Of course I am in the dog house already for being so insistent. Then all of a sudden, I am skidding sideways along the edge of the curb covered in long slippery grass. Next...... all I remember is being sprawled out on the sidewalk with 4 yapping, gnarly, dogs bearing samurai sword teeth and bulging eyes from straining at the leashes for a piece of my butt. (NOT friends wholly)
Moving on, 43km before noon, and now Steve's samurai disposition is showing as his fuel is low and we are starving. A quick bite at another slurp shop and we are in Himeji known for Japan's largest castle.
So why can't we see the castle?? A nice jogging lady actually jogs next to us pointing the way to the castle which is just up ahead. We always seem to be within blocks of where we want to be and JUST DON'T KNOW IT!!!
The castle is 16th century, magnificently built with motes and all. We climb 6 stories to the top then make a mad dash for the ferry.
One last connect to the internet
and this time we wheel our bikes on. EASY!