Flattened in the Flinders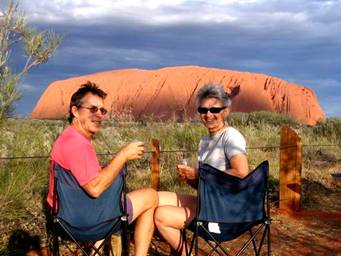 A toast at Ayres Rock (Ularu) at sunset Feral cuisine camel sausages
We are following the World Solar Challenge cars out of the outback and met up with the Solar Cyclists in the Flinders Ranges so will head for Adelaide for the big finish on Sunday. Had a horrendous wind storm the other night hitting, I bet 30 to 40 knots. You could hear it coming like a train then......BAM...4 poles on our tent snapped and we ended up with 50 yards of rip-stop nylon in our face. I said to Steve, 'Ok lets see you fix this one". He said, "guess I should get up and put out another anchor". We laughed ourselves silly. He got out the duct tape but the wind kept coming then the tent kept collapsing so we gave up resigned to being a tent sandwich all night. Next AM we noticed everyone else tent was standing but across from us a tree had been uprooted. Guess we anchored in the wrong spot! . I went into the camp office next AM and yelled, "Hey, we got flattened, I want my money back!! Then they laughed themselves silly!

Flat out in flatten tent in the Flinders Solar Bicycle

We are back to freezing cold after the stifling heat and flies of the outback. Steve was having a hard time of it so off we went to Coober Pedy my old residence where 65% of the worlds opal comes from. I knew he'd love that as everyone lives UNDERGROUND! I directed him straight to the underground camping and we set up out tent in a cave. It was so cool and no heat or flies. But no sunshine either!! He was fine there and enjoyed the unique two nights living like a mole. Did not find any opal but did find out about the miners I worked with at the 11 mile mine. We also met an old Latvian miner, Crocodile Harry who lives in a cave and is 80 years old. That is another story.

Crocodile Harry in his unusual cave home Gayla in her unusual cave home

While Outback we visited many gorges, hiked and walked around Ayers Rock (Ularu) and met a Russian immigrant couple who engaged us in conversation about Stalin and Lenin while visiting all the old Aboriginal caves and pictographs at the base of the rock. Then we hitchhiked out to Palm Valley on a 4 wheel drive track with a bird watcher from England. That slowed us down as we searched for the White letter kite and Spinafex pigeon. It also jarred us to pieces and scared us to death forging across open river beds, with no anchors aboard. It also aggravated Steve's back and we ended up two extra days in Alice Springs with a visit to a Chiropractor. He is fine now.


I jokingly keep telling him it is his diet. I don't know why he insists on eating the feral cuisine but he is right into the kangaroo pies and kangaroo steaks. He has also tried the emu kabob and camel sausages. The blood wood tree produces a 'bush coconut' that when broken open has thousands of little insects milling around, also 'bush tucker'. And Oh yes, he even tried that. But he did not get into the kangaroo tail, in fact he was disgusted by it. Old Jimmy Hooker an outback old Aussie raised among the Aborigines cooked one up for us on the campfire out in Tennet Creek. He wrapped it in foil and cooked it to death. It was burnt black and crispy on the outside as it was almost all fat. It actually made Steve a bit queasy just thinking about eating that, so he didn't. (Probably because he likes his meat cooked rare) As for me......I am just not into road kill!!

We will be heading back toward Brisbane on the inland road after the Solar Challenge events. Still a long way like driving from Florida to Pennsylvania but the roads will be good and the traffic less. We are tired of fighting for our space on the narrow roads, some dirt, where you must stop and pull off for those big road trains. Sometimes they are hauling up to 4 container size carriages behind the cab car. And they really fly throwing up dirt and stones. Got our new tent poles and our little heater is working fine so we are happy campers.