Belize
July 13, 2001

Log: Banco Chinchorro reef to Ambergris Cay Belize 74.46 nautical miles
Partly cloudy
Winds east 18 knots
Long rolling seas 2 – 4 feet

The ever constant easterlies carry us on a port tack southwest on a beam reach. Just outside the reef we put up all sail. Our speed stays constant at around 8 knots with the 18 knot wind as the current is with us. 10:00 AM the wind comes around to the southeast so we tighten sails and sail this configuration all day. It is pleasant enough and Tom comments on how strange not to see another boat or any land for that matter. Steve is below most of the day installing the new Inmarsat C weather communication unit that Tom and Pixie have lugged down with them from the states. We contact Bali Ha'i on the single side band radio of a package we are carrying for them that arrived in Mexico after they left Isle Mujeres. It is common practice for cruisers to deliver items to each other and even pass them along to others who will be connecting at other points. That is how Tom and Pixie also ended up carrying another 2 barrels of granola to us from the couple joining us next. Although Bali Ha'i is using the new water ballast system, Ariel is getting a reputation as the boat with 'granola ballast' now with 5 other barrels in her holds. 5:00PM we sail along the northern most barrier reef of Belize off Ambergris Cay. It is a hair raising few moments when we cut in at San Pedro Pass as the sun is low and difficult to see the reef on either side. There is also a drying reef in the middle of the pass forcing a quick dog-leg turn north once we are pushed inside on a rolling ocean swell. Like all good sailors coming in from sea we head for Sharky's Bar before a dinner on shore and Steve heads for the CocoNet Café to try out Belize Internet.


Steve at the CocoNet Internet Café on Ambergris Cay Belize

July 14, 2001

Log: Ambergris Cay to Cay Caulker 14 nautical miles
Breezy
Seas shallow inside reef

We are in a new country with new rules, new money and new Internet confusion. Immigration gives Steve a short talk on coming in immediately to check in even though it was after hours last night but soon become very casual with their check in procedure. We are charged $15 by the doctor for the health inspection of Ariel he never did along with the usual fees for visas, and immigration. Steve heads back to the CocoNet still working on figuring out the system while Tom, Pixie and I take a morning walk around the town. It has an appealing laid back Belizean atmosphere. No one is in a hurry. Speed limits are 10 MPH geared for the electric golf carts that silently glide up and down the white sand streets. Island residents include Creoles, mestizos and a few transplanted gringos. Water sports are the main theme here, with parachutes flying people behind boats, as well as snorkeling and dive trips. 1:00PM we are off to Cay Caulker the other most popular cay of the dozens that dot the Belize coast. We motor inside the 180 mile barrier reef, the longest in the Western Hemisphere but our shortest distance so far. It is shallow, some places only 7 feet and we bump the sandy bottom with Ariel's 6.5foot deep keel. This island is even more laid back, only 4 miles long and 650 yards wide at its widest point. I have been here before 24 years ago. I am shocked by the changes as we step ashore. It is sad for me to see what tourism has done. We walk the two sandy streets simply named Front St. and Back St. and end up in Paradise Hotel restaurant for Tom and Pixie's last meal and what originally brought people to this island….Lobster!


Laid back on Cay Caulker
4 miles long & 650 yards wide
Gayla on stroll down memory lane
July 15, 2001

Log: Anchored off Cay Caulker Belize

Tom and Pixie head back to Florida. The last we see of them they are two gringo faces in a sea of natives piled into a 25 foot open water taxi headed for Belize City 26 miles southwest.


Cay Caulker water taxi to Belize City
Short on granola ballast but replaced with T-shirts and hammocks they wave good-bye and promise to meet up again.


I am determined to find the house I rented with several others on this island in 1977. It was a typical island home of clapboard with tin roof and a huge cistern rain barrel. My inquires take me to Ofelia Alamina a long time resident of Cay Caulker. We talk of the old times and how wonderful and serene it was back then. "Lobsters used to crawl right up on the beach", she reminisces. "It is difficult to explain to the grandchildren how it used to be before the tourists came. Now they have everything they could possibly want and still want more". I look around at the inside of her home. It is small with wooden partitions dividing the three rooms. There is very little furniture yet to her it is "everything". We find the house I rented has been moved and is now a brightly painted bungalow crowded between many others. We both long for the "old days".


Typical house the one Gayla stayed in back in 1977 now moved and repainted
I have old photo's I promise to mail to her as most photo's were lost in hurricane Keith last Oct. It is why the island looks so devastated. Lots of construction is in progress but much of the natural vegetation is gone. I head back to Ariel, in a sea with no vegetation at all. A storm moves in during the night. Winds rise up to 38 knots. We are tossed and blown but our anchor holds. And so it is with Cay Caulker….it will survive.

July 16 to July 20, 2001

Log: Anchored off Cay Caulker Belize
Not good holding, soft silty sand
Breezy, hot, sunny with several thunder squalls

Listening to the net or the ' north west Caribbean net' a group of cruising sailors keeping in touch through their single side band radios. Today Jan is running the net but comes on with "what's the date today" followed by a chuckle and a " now where am I?" It is a common theme with cruisers. Time is lost, the days drift by. We hear Mo of s/v My Time answer and give the weather report. It is a good boat name and good weather to try out our scuba equipment with our first dive. Ironically it is in the exact place I first snorkeled with sharks and barracuda years ago. Mo says there is a crocodile lurking about that actually bit a tourist in the butt. I dawn my equipment trying to remember my training on the Barrier Reef off Australia 15 years ago. No oversized wet suit to entrap air bubbles and keep me afloat. No fellow divers vomiting 60 feet below the surface or tearing off face masks and inhaling water at the same depth. I am still confused about the buoyancy vest but remember not to repeat the past by hitting the wrong button and shoot to the surface like a torpedo. Steve circles around adding weights until I drop. Then the beauty of diving returns. The first practice dive is a success. Back on the island we also discover delicious breakfasts of 'fry jacks' or puff pastries with honey at the Sandbox café, basking under the new Shade Tree awnings in our new hammocks on Ariel's foredeck and meeting interesting backpackers over dinner aboard Ariel. After two months cruising we finally beginning to relax on "our time". And as we overhear on the SSB, "IF YOU NEED TO GET SOMEWHERE IN A HURRY, BETTER TO WALK THAN TO SAIL!"


July 21,2001

Log: Cay Caulker to St. George Cay via Puerto Stuck 14.75 nautical miles
No wind
Seas shallow, flat

There is only a one foot tide in this area. 8:15am leave Cay Caulker heading 283 to pass through Puerto Stuck at high tide. Gayla sits on the bow navigating through a maze of twigs marking references to lobster pots. 9:25am, two miles north of Puerto Stuck going 6 knots we hit bottom. Depth sounder is reading 6.8, keel is only 6.5. There are two repeaters to the depth sounder. The one at the helm is going crazy. We change to monitoring the one below at the navigation station. We do not get stuck in Puerto Stuck but do understand why it is named such. We skim along the bottom following actual palm trees sticking out of the water to mark the channel. Navigation school never taught how to navigate through palms trees or through a flock of thousands of cormorant birds sitting on top of the water dead ahead or even houses like the ones on stilts lining the channel. These are land things, it is why we like blue water sailing out in the ocean, there is nothing hard to run into and the water is deep.


11:00am drop anchor off St. George Cay, put up the hammocks and lay back. It is heavenly.

The Cay is deserted all but for a few vacation homes of the rich Belize elite including the prime ministers and only 5 resident families. It was the Belize settlement's first capital (1650 – 1784) . Going ashore and are greeted by a very Scottish military man with tattoos and body piercings. He is heading up the British R & R Adventure Training Camp where the Union Jack is flying. Up until 1981 Belize was the colony of British Honduras now an independent English speaking country.


July 22 & 23, 2001

Log: St. George Cay to Moho Cay 9 nautical miles
No wind
Seas shallow and calm
Sunny, muggy and hot

9:00am leaving St. George Cay. 10:30am Moho Cay lies just off Belize City where we are instructed via VHF how to enter the small opening through the reefs into the marina. We are glad to have the guidance as the opening is very narrow for Ariels 16 foot beam to pass through. We see Bali Ha'i already tied up so come in turning stern to their bow, port beam to the dock.


Bali Ha'i and Ariel at Moho Cay Marina Belize City

We have made a plan to go inland with Doanne and Wayne to the jungle ruins of Tikal in Guatemala, so leaving the boats in a marina is the safest way. Next day we are in town checking on travel arrangements and found the people friendly, open and relaxed – everyone seems to know how to have a good time. Being a mix of Creoles, descendants of the African slaves, and British, they are racially mixed and proud of it. They readily offered us help and advise. Making arrangements for a minivan to Tikal we also end up with a full service including hotel, meals and tour guide. Started our Malaria preventive medicine today. Returned to Moho key via water taxi to find Ariel covered with thousands of swallows, thankfully a mosquitoe eating bird.

July 24 to July 26 LINK to TIKAL GUATEMALA from BELIZE
Young water taxi driver takes us to Belize city for shopping
July 27 & 31, 2001

Back to Ariel we resume life aboard, 4 ½ hours from the mysterious, sweltering jungles of Guatemala. Steve is nursing numerous bites around his ankles from his trip to the Lost World. And it is time for the second series of our hepatitis shots. We find one syringe leaked and had to determine who gets the other. Steve makes a sacrificial decision and comes at me like a jungle native with a poison spear. Next day he gets his at the local hospital for a whooping $100 US.
We provision Ariel with fresh produce from the local outdoor market in Belize City. There is a wonderful selection of fresh corn on the cob, watermelons, papaya, and almost every vegetable imaginable. The supermarkets carry exported products that are very familiar and we stock up.
We will be leaving soon for the outer reefs. The last of the wires are pulled through the mast for the new sensor alarm system. Much like a car alarm the siren is mounted on the mast along with two spreader lights. Sensors are placed under the decks and above the headliners inside. With the slightest compression the alarm wails and the lights shine down on the decks.
Our last days tied to shore we meet up with the 'smiling mermaid'. She is a fun, retired California optometrist looking for a mate through the internet with her unique email address. We spent the last days listening to her wild stories of sailors and boats and trying to find the perfect combination. She sums her experiences up with "most single sailors are fishing for that special mermaid but when they finally catch her, fear takes over and they through her back". The first 'tropical wave' is headed this way. Time to head back out to sea.

SAILING IN BELIZE CAYS


Aug. 1, 2001

Log: Moho Cay to Turneffe Reef 27 nautical miles
Heading east then south east
No wind
Flat seas

A tropical wave is predicted. 9:00 AM High tide. The keel is 8 inches into the sludge by the dock but we spin off and out of the narrow cut. Motoring east we feel absolutely no wind. The calm before the storm? We think the tropical wave must be sucking the air into some formable mass, hopefully not a hurricane. It is our fist tropical wave. This is a weather pattern we will see more of as we move closer into hurricane season. First come the waves, then the tropical depression which turn into tropical storms and given a name. Then the dreaded hurricane. 8 miles off Belize barrier reef, Turneffe Reef, we turn SE following the reef to the southern end. 1:30 drop anchor behind the reef but simultaneously the keel hits sandy bottom. We motor back out and continue around to just off Big Bokel Cay. Heading toward the Turneffe Lodge the keel hits a coral head. We anchor and stay put. It is stifling hot, almost unbearable. We head for the lodge in the dinghy.


Here time stands more still than the wind.

This private all inclusive dive lodge sets their own time one hour later than the rest of Belize so the divers can get up later and enjoy a longer cocktail hour. We are invited to the later but head back promptly at sunset when the mosquitoes come out in force.


Aug. 2, 2001

Log: Anchored off Big Bokel Cay Turneffe reef
Raining
20 knot winds
Seas fairly calm behind reef

Tropical wave has turned to a depression and is upon us. It is raining. Woke with the NW Caribbean net given by s/v Soggy Paws. It is a day to work aboard rerouting computer cables and later invite a couple from California aboard on vacation at the dive lodge. They work hard, play hard. They have come to dive the Blue Hole off Lighthouse reef where we head next. Jacques Cousteau and the Calypso explored this strange geological phenomenon in 1972. This round lake rimmed by a ring of living coral is actually a cave under water that is 500 yards in diameter and more than 450 feet deep! Divers descend 125 feet to an overhang with a forest of underwater stalactites some up to 40 feet long. Strangely, there is little marine life but our friends described a school of black tip sharks which descended with them. This is not a place for the average diver or deep draft boats to get too.

Aug 3, 2001

Log: Anchored off Big Bokel Cay Turneffe Reef
Skies clearing
Seas calm behind reef
Hot and sunny

The depression has past us to the NW but turned to a storm named "Berry" and headed for the Gulf of Mexico gusting 35 to 55 knots. In the night experienced fierce winds, lightening and thunder. Ariel spun from side to side on her 100 pound bar anchor but held. Listening to the Net we meet Luis on s/v Crystal helping people set up email from their boat. WBE9808@marinenet.net. Steve decided against the Iridium phone at $35 a month and $1.35 a minute. For 10 minutes a week it could be $85 and that is without an internet acct. expense. The marine.net through the single side band radio for SSCA (Seven Seas Cruising Assoc.) members is $25 for 7 hours. We still have Inmarsat C satellite communication system and email for emergencies. Snorkeled on the reef off the dinghy and tried out the Hawaiian sling for spear fishing.

Aug. 4,2001

Log: Turneffe Reef to Lighthouse Reef, Long Cay & Half Moon Cay 17.17 nm
Wind east 6 knots on the bow
Seas 1 to 2 foot swell
Hot but breezy

We get Ariel's first infrared satellite photo of weather. Berry is headed inland near Pensicola Florida. Weather fax off the SSB from the coast guard also shows a new tropical wave forming off Africa south of Cape Verde Islands and heading across the Atlantic. 11:00 AM heading out 82 degrees east by north. 3 ½ hours later enter the 3rd of the 4 atolls in the northern hemisphere. Gayla at the helm, Capt. navigating from the bow watching for shallow water, coral heads and reef. Helmsman makes suggestion to go hard to starboard, Capt. agrees and Ariel avoids near collision with deceptive reef. Helmsmen makes suggestion to make her Capt. and Capt. chief engineer. Suggestion is not taken seriously. Pass Lighthouse Cay and anchor off Half Moon Cay next to Bali Ha'i.


Aug. 5, 2001

Log: Anchored off Half Moon Cay, Lighthouse Reef
Winds die to constant breeze
Sunny

Tropical storm Berry is now inland and dissipating. High winds gusting at 25 knots in the night sets off Ariels alarm. Sends capt. and crew scrambling incoherently topside in the black of night. Lights flashing, wind howling, siren wailing. The snubber on the anchor jerking violently puts a strain on the deck cleat setting the alarm off. A line of thunderclouds is moving south of our position releasing little rain here but lots of wind and lightening off the stern. The day is clear and sunny.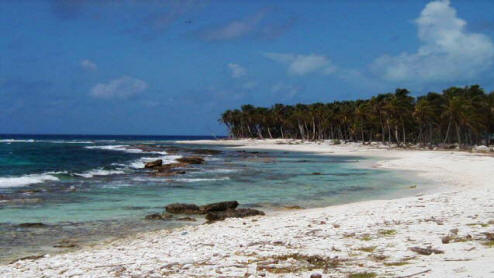 The island is only 10 feet high and 45 acres shaped like a half moon ringed by white sand and coral beaches, groves of coconut palms and the home of over 4000 red-footed boobies and frigate birds as well as 98 other species. This is a National Reserve maintained by the Belize Audubon Society.

We hike through the lush jungle on a sandy trail to an observation platform to view the birds. Huge iguana's and hermit crabs scatter from the trail. The birds are by the hundreds nesting in the trees as far as the eye can see. It is an awesome sight.
On the way back the engine on the dingy conks out. There are exposed reefs and coral heads everywhere. We drop the small anchor until we discover it is a faulty kill switch then get it started again. We vow to take the VHF radio next trip ashore.
Later dove to 18 feet off Ariel to circle around some beautiful coral teeming with colorful fish. It is our second dive and we stay down longer this time. It is an August full moon, time for the spawning of coral. We feel a bit guilty eavesdropping and joke that perhaps it is why the alarm went off in the night.

Asexual Reproduction – How Do Coral Reproduce?
1. Coral spawning takes place on full moon nights of July and August.
2. Spermatozoa are released by polyps into the water.
3. Mature eggs are waiting inside the other polyps
4. Fertilization takes place in the center cavity
5. Free swimming planktonic larva is released
6. Larva reaches a soft spot to settle.
7. Polyp develops and starts secreting limestone outer case.
8. Polyp divides by budding off identical polyps. The new ones also start growing and dividing.


Aug. 6, 2001

Log: Anchored at Half Moon Cay
25 knot winds subsiding in AM
Seas small chop
Sunny, clear

Weather fax came in and so did the satellite weather photos. Now Steve is working on finding the times for tracking the satellites for yet another receiver for weather. A photo comes in on the computer monitor showing fine clouds moving from east to west across latitude 8 or just north of the equator and south of us. The perimeter of this front is the disturbance we are getting here now, but clearing. An area known as the Bermuda High is a large area of high pressure situated in the middle of the north Atlantic and is what controls the whole tropical weather scene. North of this area the winds are called the prevailing westerlies and to the south are the northeast and east trade winds which extend all the way from Spanish and African coasts to the East and Golf Coasts of the USA. Easterly waves are troughs of low pressure embedded in the NE trades south of this area that move from east to west at an average speed of 15 knots and will travel about 360 miles in 24 hours. These are the waves we watch for that may or may not form into sever weather. In the Caribbean there are about two wave passages a week during the hurricane season. Just now there are another two of these waves out in the Atlantic headed this way.


Aug. 7,2001

Log: Half Moon Cay, Lighthouse Reef to Tobacco Cay 34 nautical miles
Winds 18 knots
Seas 1 - 2 feet behind reef, outside 3-4 feet
Sunny, clear, hot and muggy

8:30 Leave Half Moon Cay heading SW 231. The water changes from light turquoise with yellow brown patches of reef and dark coral heads to a green then the deep cobalt blue of deep water. Whisker pole is hoisted out, all sails up heading down wind, wing and wing. Dolphins come along side and ride the bow wake. They dart in and out from the starboard side and leap into the air at 6 to 7 ½ knots keeping up with Ariel for over half and hour. It is a beautiful 5 ½ hour sail. 1:30 PM we drop anchor at Tobacco Cays a picturesque island of palms, white sand and little wooden houses. Most are homes of locals from Stan Creek on the mainland 15 miles further west. But we end up meeting one local from Albuquerque New Mexico running a dive shop and a guest at one of the three guest houses from Cleveland Ohio. We have an enjoyable evening discussing life under a thatch roofed bar on the end of a wooden dock and watch the fishermen bring in boat loads of lobster.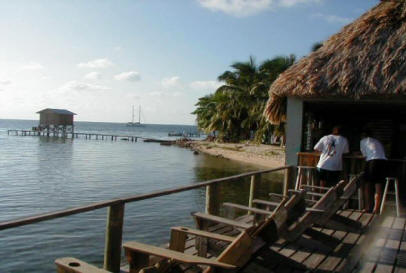 Tobacco Cays guest house between storms
Aug. 8, 2001

Log: Tobacco Cay to Placencia Belize 34 nautical miles
Wind 15 knots to 32 knots
Seas 1-2 feet Thunderstorm activity and squalls all around

We drug anchor in the night. It is hard to do with the bar anchor but the holding ground was grass and not good. The wind howled and blew from all directions with lightening thunder and torrential rains. It was the night to raise the dinghy on the davits out of the water to keep the barnacles to a minimum. We had forgotten but decided to when the storm came up. It was then we discovered our position change, fortunately, least the reef clean the barnacles off for us and off Ariel as well.
Steve goes on the bow to haul in the anchor while I am at the helm steering to his directions. We are in 9 feet of water with reefs to our stern. It is not nice on deck in the black of night with rain, wind, lightening and Ariel being blown backward. A decision is made to make a run for Placencia on the mainland in the morning.
9:00AM heading 202 downwind at 8 knots. Winds at 15knots, all sails up , whisker pole out. Thundersqualls off our port bow and starboard stern. 12:00 noon in channel between Wee Wee Cay and mainland the wind drops boat slows to 5.2 knots. 1:00PM 8 miles from Placencia winds up to 32 knots, sails reefed, jib furled in. Rain and white caps greet us as we fly 9.7 knots heeled to starboard into Placencia. It is an exhilarating wild fast run. We drop anchor among 20 other boats. Sand Dollar, Twanda, Filia, Big Foot, Zaya, Sailabout, Hei de Hi, Paradise Blue among others we come to meet like old friends having heard most on the Net. Everyone is waiting out the 'waves' which are increasing in intensity and coming more regularly.


Aug 9, 2001

Log: Anchored off Placencia Belize
Intermittent rain

Tropical wave over Rotan Honduras is moving this way producing rain and wind off and on all day. We stay aboard emptying out the 'dry bilge' for the 6th time.
The watermaker is now making 36 gallons of fresh water an hour but we can't find the leak. Glad to find the granola ballast is still dry. Everyone else is also aboard drying out. We hear on the VHF "Sailabout is having an afternoon video matinee aboard" . " George is giving an electrical lesson bring pencil and paper". "Margaret is teaching the fine art of making bread".
There is a community of young cruisers here all situated in the bay only 30 miles from the Rio Dulce river in Guatemala which is a 'hurricane hole'. Capt. Steve does not believe in hurricane holes so heads for the open seas as do many other top sailors.

Reiner on the 37ft. homemade steel s/v Mule will attest to that having endured and survived through hurricane Keith on Chapel Cay Belize last October.

"I was one of 4 who stayed of the 80 residence evacuated. I was aboard Mule tied to the dock until the island virtually went under water than had to be rescued by a bulldozer and taken to a cement pump house where I remained for three days. Only once when the sun came out did I go to check on Mule and that is when I saw the barometer drop. I realized I was in the 'eye'. I changed the ropes to the other side of the dock and made a wet dash to my bunker. I barely made it in time. It was the most frightening experience of my life! Next time I am heading out to sea". We all watch the weather and hang in, it is a nice neighborhood in the bay.

Aug 10, 2001

Log: Anchored off Placencia Belize
Drizzling in AM but clearing

The tropical wave has moved inland over Guatemala and we are getting the backside of that with morning showers and occasional winds gusting up to 15 knots. Sand Dollar drug anchor again in the night. Cade and Lisa are looking for a bigger anchor. VHF announcement comes on, "there are dolphins in the bay". The sun comes out, time to go ashore.
Placencia is a throw back to the 70's. Situated 3 hours south of Belize City at the end of a peninsula it is the end of the road. The main street is a sidewalk.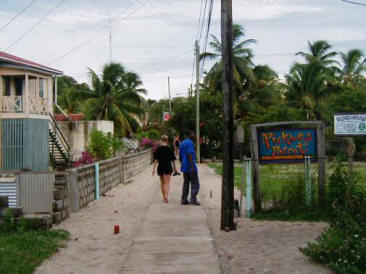 We name it the Bishops walk when we here the story of it's origin.
The overweight priest found it difficult to walk in the thick sand so commissioned it to be built.

On either side houses on stilts pop up like wildflowers in a garden without borders between the bay and the lagoon. Brightly painted in reds, yellows, blues and purple they attract a gringo community among a local population of 300.


Colorful house Placencia Belize before hurricane Iris
We walk the walk stopping to eat at the Rasta Pasta where we meet the owner Carole Gil from Eugene Oregon. She knows of Steve's sister Kate, from the big county fair. Small world.
Bull Durham invites us into his local rented house to connect to the internet since the Purple Space Monkey Internet café is down.


His real name is Ron Durham but everyone calls him Bull.

It is what he thinks of the doctors prognosis that sent him here. He is an 55 year old heavy equipment operator from Las Vegas. "I came here with 6 months to live, started eating the fruit and swimming everyday, and that was two years ago." 'Bull' is also what Marsha Trent, a live aboard now living ashore thinks of computers. "Don't need them down here. Just forces you to do more faster. Who needs that? When I get bored I sail over to the off shore islands, drop anchor and read a book. It's paradise." We check out the De Tatch bar, Dis and Dat grocery and the Pickled Parrot café before heading back to Ariel thinking of paradise beyond.


Aug 11,2001

Log: Anchored off Placencia Belize

We spend the day searching for the two illusive vegetable trucks which come in from Belize City twice a week. Instead we are stopped by the BAHA or local Belize agriculture that informs us there is a Med fly in Placencia and may have to charge boaters $10 for quarantine fee. We have already donated to the trash disposal fund. Bull thinks it's more "bull" since the trucks bringing in produce are not checked, yet they are claiming it must be a boater coming in from Guatemala. Most boats are heading south. We are all skeptical. Besides everyone is out of vegetables and fruit. All the cruisers are in town and we end up putting a face to all the names we hear on the Net. Later Mel and Harry from Seattle on s/v Big Foot invite us to the "Tree of Knowledge" where cruisers congregate at a locals house along with King a giant iguana. Big topic turns to the trucks unloading at the market. Everyone scrambles, elbowing in and wiping out every last tomato.


Aug 12, 2001

Log: Placencia to Queen Cays 20.08 nautical miles
Wind NE 15 knots
Seas calm
Sunny, clear

Net controller "any boats under way, come now". S/v Mustang answers on the way to the Rio and announces, "did over 700 miles in 4 days, not bad for a 65 year old boat and crew of two even older." We talk to s/v Twenda which means 'lets go' in Swihili so we decided to head with the older crowd and leave the '30 somethings' in the bay making LED light lamp shades out of toilet paper and epoxy. 10:00AM leaving Placencia Bay heading NE with a NE wind motoring 6 knots into the wind until clear of Viper Rocks. 12 noon changing position to 108 heading for Moho Cay. (one of 3 in Belize) Two huge winged Paradactail looking monsters head right for us. They are shrimp boats with their poles out and nets tied up cruising off Hatchet Cay. We spot Twenda already anchored in the Queen Cays and radio them on VHF. They have bees! Later we go aboard and meet Jerry and Ann who tell of us their plight plugging holes in the mast to fumigate the bees where they are sure they are nesting. Lightening and thunder clapping we guide the dinghy over the silver path of the moon on a choppy sea back to Ariel the only other boat anchored out on a wide open empty sea among the tiny Queen Cays.


Aug 13, 14, 15,16, 2001

Log: Anchored in the Queen Cays
Violent wind storms with rain every evening
Sunny breezy days

We are anchored off three little islands off our port beam with drying reefs off our stern and starboard beam. The islands are only a few hundred yards around, surrounded by reefs, white sand and tall coconut palms. The perfect island paradise we have come to find. Pelicans dip into the lagoon as we picnic on the largest deserted island, cracking open coconuts and drinking the fresh milk. Until the speed boat from the mainland arrives with four people from Pennsylvania. We ask if they have reservations! A small fishing boat anchors off the main outer reef and Jerry motors over to give them a weather report. He finds they only speak Spanish but is amazed to find 12 people aboard this tiny 30 foot boat with 3 kayuka's or little hollowed out logs tide up alongside. The weather is unsettled and we get torrential rain storms with lightening and thunder , winds up to 44 mph. We find the 'dry bilge' is wet again. We have water above, water below and water in-between on Ariel. We unpack once again and find the leak, finally. I am reading the book 'The Water In-Between' by Kevin Patterson. He tells of his maiden voyage across the Pacific taking with him an experienced captain Don Lang. We had met Don in the Bahamas asking for crew position on Ariel back to the Pacific where he longs for the island life of Palmyra. Bali Ha'i arrives and we dart between each others boats for happy hours and meals. We have our own little paradise, three islands three boats. But the weather remains dubious. Twenda decides to head south. The last we see them they are guiding their dinghy away from Bali Ha'i along the silver path into the black threatening sky, headed for the bee hive.


Aug 17, 2001

Log: Anchored in the Queen Cays
Intermittent rain and sunny

The entire weather picture is changing. The benign tropical wave out in the Atlantic , turned tropical depression turned to a tropical storm last night and named Chantal. It is five days away but headed this way. We have been listening to the Net, keeping track on our satellite photos and comparing notes with Bali Ha'i. This AM it was downgraded back to a depression and we had decided to stay here and head back to Placencia in the morning in time to catch the Saturday vegetable truck and pick up whole wheat flower to deliver to a boat in the Rio. Doanne, Wayne and Steve head off for the reef for a 170 foot dive. I stay aboard and try to recreate my log from memory when I accidentally deleted the document. With 5 other people around last night, all highly computer literate I could not believe none of them could save me. I am on my own when another wind picks up and storms off over the reef. I can not see the dinghy anywhere in sight. Finally they all return, happy as ducks high on nitrogen. The weather reports for noon come in that the storm Chantal has picked up again and expects to become a hurricane. We radio Twenda headed for the Sapodilla Cays and hear that almost everyone in Placencia bay is evacuating to the Rio. "All the chickens are headed for the roost" Jerry response over the radio. We grill the huge hog fish Steve speared and join Doanne and Wayne and their cracked conch for dinner.

Warning: Synopsis valid 1200 UTC Fri Aug 17: Tropical Depression Chantal near 13.2N 65.2W at 1500 UTC moving W or 270 at 23 knots maximum sustained wind 30 kt gust to 40kts.
High Seas Forecast National Weather Service Washington DCT/TPC Miami Fla.
2230 UTC Aug. 17 Chantal near 16.5N 78.0W Sustained maximum wind 65Kt gust to 80Kt. Radius of tropical storm force wind and seas 12 or grater within 125nm .


Aug. 18, 2001

Log: Queen Cays to Placencia Belize possibly south 20 nautical miles
No wind
Seas flat

The calm before the storm. Chantal is heading this way. The reports come in.
Warning: Synopsis valid 0600 UTC Sat. Aug 18
Forecast valid 1800 UTC Sun.Aug 19

Tropical storm Chantal at 14.8N 71.3 W at 0900 UTC moving W or 275 at 20 kt. Maximum sustained wind 50 kt. Gust to 60kt. Radius of tropical force winds 100 nm N semicircle and 75nm SE quadrant.
Radius of seas 12ft. or greater 125nm N semicircle..100nm SE 16.1N 77.4W. Maximum wind 70 kt gusts to 85 kt.
Radius of tropical storm force wind and seas 12ft. or greater within 125 nm N semicircle and 75 nm S semicircle.
Extended Outlook… for guidance only…Errors may be large…0600 UTC Aug 20
Hurricane Chantal 19.5 N 87.0 W. Maximum wind 85 kt. Gust to 105 kt. Request 3 hourly reports within 300 nm of center.

We are within the predicted semicircle. Tension is high, boats in the area are headed for the Rio. It is time to go.
7:00AM Ariel gets under way leaving Bali Ha'i alone at anchor to follow shortly. 8:00AM Doanne is controlling the net this AM her first time. She has asked Mo on s/v My Time in Cay Caulker to give the weather since he has good internet reports. Tension is high. S/v Soggy Paws comes on immediately after the weather in the middle of the Net and we hear her and Doanne in an argument over why Doanne had Mo give the report when Soggy Paws had someone else lined up. Doanne apologizes, it being her first time as net controller and not sure of the protocol. She continues giving a beautiful performance as controller, Soggy Paws hangs up. Looks like a cat fight in the Rio. Twenda has traffic for Ariel. Anne wants to know where Ariel is checking out of Belize. We will try Placencia after picking up supplies if we can find the immigration. If not we will head for Punta Gorda last check out point in Belize south and if Chantal gets too close we will not check out at all and head south. 8:30AM Ariel leaves Hatchet Cay in her wake heading 288 at 6 knots under full sail. GPS has been programmed to take the reciprocal course back to Placencia on the mainland. Steve radios for any vessel in Placencia. No one answers. We may be the last boat out of the area as Bali Ha'i is heading straight for the Rio. Ariel's plan is to keep an eye on the eye and keep moving. AS OF NOW, it looks like Hurricane Chantal will come straight toward northern Belize with a prediction of veering to the north by tomorrow, hitting the coast near Cancun Mexico midnight Monday Aug.20. There is no sea room for Ariel in this tight corner so Captain is forced to head to the Rio and the hurricane hole. It is only 30 miles from Placencia to the Rio so plenty of time. There is a sand bar at the entrance which Ariel must pass over at high tide. This makes her ETA at the mouth necessary by 8AM. Ariel is only a couple days ahead of her intended departure. But it is time to go…..Ariel is on her way to the hurricane hole.